US market regulator Securities and Exchange Commission (SEC) has charged four Indian brokerages - Ambit Capital, Edelweiss, JM Financial and Motilal Oswal - for providing unauthorised broking services in the US, but agreed to settle the charges after a payment of more than $1.8 million (about Rs 10 crore).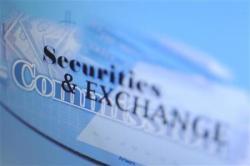 Besides, the SEC is further probing the role of other companies, which may include some from India, for potential violation of similar nature.

The SEC said in a statement late last night that the four financial services firms were providing brokerage services to institutional investors in the US without being registered with the SEC as required under the federal securities laws.

"The four firms - Ambit Capital Private Limited, Edelweiss Financial Services Limited, JM Financial Institutional Securities Private Limited, and Motilal Oswal Securities Limited - agreed to pay more than $ 1.8 million combined to settle the SEC's charges," the regulator said.

Despite being unregistered broker-dealers, the four companies engaged the US investors here through sponsored conferences, regular travel of their employees to meet the US investors, traded securities of India-based issuers on behalf of US clients and participated in securities offerings from India-based
issuers to US investors, SEC said.
In their respective settlements, the firms agreed to be censured while neither admitting nor denying the SEC's charges. Ambit agreed to pay disgorgement and prejudgement interest totalling $30,910, Edelweiss agreed to pay $568,347, JM Financial $443,545 and Motilal Oswal Securities agreeing to pay $821,594.
The SEC said that the companies' "cooperation with the Commission staff and their prompt remedial measures", besides their initiating registration with the SEC as a broker- dealer, were "important factors in accepting the firms' settlement offers, particularly the Commission's decision not to impose a cease-and-desist order or a penalty."
The regulator said it "is continuing to look for potential violations at other firms".
With regard to Ambit, SEC said that it systematically solicited US institutional investors for the purpose of providing brokerage services from at least January 2011 through April 2011.
When contacted by SEC in May 2011, Ambit said its solicitation had not yet resulted in significant brokerage business from US investors.
"However, Ambit had received some transaction-based compensation for buying and selling the securities of Indian issuers on Indian stock exchanges on behalf of US investors," the regulator said.