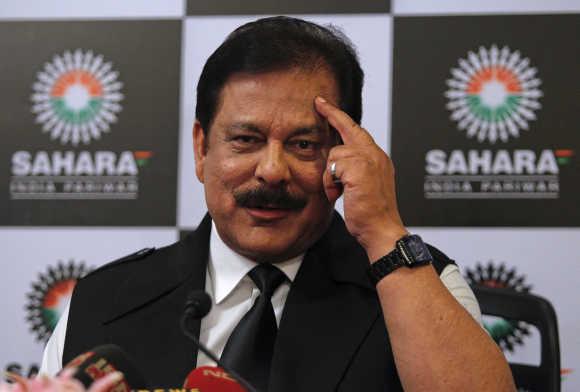 Market regulator Sebi on Friday said it is yet to receive "all papers" in the high profile Sahara case where the Supreme Court has directed two group companies to refund money to bond holders.
Sebi Chairman U K Sinha said it is fully competent to verify the documents related to the case, with regard to checking the genuineness of the bond holders of two Sahara Group companies.
"Sebi is fully competent to verify. It has got its agencies in place and it will do its task on time, provided all the information papers are given to us. (But) all papers have not been given to us," Sinha told PTI here.
He was responding to a query on whether any verification agency has come forward to ascertain the genuineness of bond-holders.
Sebi held its board meeting here today. The Supreme Court has asked the market regulator to facilitate the refund, amounting to thousands of crores of rupees, after ascertaining the genuineness of about three crore investors from whom the companies had raised money through bonds.
Earlier this week, Sebi had said it has put on hold the process for roping in an 'in-person' verification agency that was to help it ascertain genuineness of bondholders in the Sahara case.
The Securities and Exchange Board of India (Sebi) had begun the process in November for selecting an IPV (In-Person Verification) Agency to help it ascertain the credentials of bondholders of two Sahara group companies.
The Supreme Court, in its order on August 31, had asked Sebi to ascertain the genuineness of an estimated three crore bondholders of OFCDs (Optionally Fully Convertible Debentures) of two Sahara group companies (Sahara Housing Investment
Corporation Ltd and Sahara Real Estate Corporation Ltd) and thereafter facilitate refund of the money with the interest.
Subsequently, the market regulator had decided to carry out in-person verification of these bondholders.
Later, the apex court passed another order, wherein Sahara group was allowed to refund the money in three instalments till first week of February.