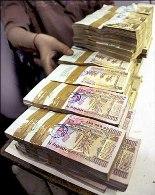 Just days before the court-mandated verdict on its application for a stock exchange licence, the MCX Stock Exchange (MCX-SX) has accused Securities and Exchange Board of India (Sebi) of blatant favouritism and "tricking it with ulterior intent".
In a strongly-worded letter to Sebi dated September 16, MCX-SX has questioned Sebi's motive in opposing its capital restructuring plan.
"The real question Sebi has to answer is that if they had such serious reservation to the scheme of reduction of capital and issuance of warrants, then how can Sebi justify its own role in first prompting the scheme through its executive director (J N Gupta) and later its chairman expressing no concern or reservation?" the letter asked.
MCX-SX is involved in a court battle with Sebi over the launch of full-scale operations like BSE and NSE. Sebi has restricted MCX-SX, saying it was not comfortable with its capital reduction plan.
MCX-SX Allegations
Sebi is opposing a scheme advised by its ED, J N Gupta
Conflict of interest on part of Sebi's Bhave and Sahoo
Making MIMPS compliance difficult shows Sebi's design
Sebi is safeguarding the interests of NSE, a monopoly
Both NSE and MCx-SX officials declined to comment on the issue. Sebi Chairman C B Bhave and Gupta did not reply to SMSes and calls.
The MCX-SX letter states that Sebi's delay in approving its application for other segments on the pretext of warrants, "gives an impression that the applicant has been tricked into this situation with ulterior intent".
Despite the fact that the entire scheme was suggested by Sebi on October 5, 2009, the MCX-SX letter continues, Sebi has raised issues almost a year after MCX-SX approached the Bombay High Court.
"The silence of Sebi, despite having full information since October 5, 2009, appears to be with design of damaging the applicant's business and reputation. The advantage of this delay and the damage to our business and reputation is only to NSE," it stated.
Under the Manner of Increasing & Maintaining Public Shareholding in Recognised Exchanges (MIMPs) regulations, MCX SX promoters MCX and Financial Technologies had to cut their shareholding to 5 per cent in the exchange.
However, the promoters were not able to sell their stake as prospective buyers demanded that MCX SX first secure permission to launch trading in other asset classes, including equity derivatives. This put it in a peculiar situation.
However, the promoters converted their equity shares into warrants "as suggested by Sebi" and reduced their capital to the extent that FT and MCX held only 5 per cent each, which was approved by the Bombay High Court.
The letter stated that there is a conflict of interest in Sebi's decisions, and that the regulator was being unjust.
"When the above is seen in the backdrop of C B Bhave being former MD & CEO of NSDL, a company promoted by NSE, it appears that there is direct conflict of interest and the treatment given to MCX-SX against NSE further prove the circumstances.
Likewise, M.S. Sahoo was also the employee of NSE and, so, there is a conflict of interest. K M Abraham has been dealing with MCX-SX and all letters are brought to his notice," stated the letter.
"Despite knowing the problems, he instead of sympathising with MCX-SX, decided to put the clause in the notification that without MIMPS compliance, it will not be able to launch any new product or segment and this clause drove away all prospective investors and left capital reduction as the only option available with MCX-SX," the letter continued.
The letter states that MCX SX has also taken an opinion from legal expert Fali Nariman, who has a view that there was nothing wrong with the scheme.
After capital reduction, 89 per cent of shares in the exchange are now held by the government, private sector banks and financial institutions. NSE, on the other hand, has 60 per cent private and foreign investors.
"It is perplexing why Sebi is guarding the interests of NSE, a monopoly, and not protecting a more dominantly-owned government exchange," the letter asked Sebi.