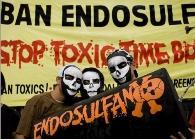 The Supreme Court on Friday allowed export of nearly 1100 metric tonne of unused Endosulfan from the country, while retaining its earlier order banning the use and production of the controversial pesticide.
In a relief to Endosulfan manufacturing companies, a three judge bench headed by Chief Justice S H Kapadia allowed them to meet their contractual obligations of export.
The bench also directed that enough precaution will be taken by the companies and custom and excise authorities in packaging the banned pesticide so that it can be safely exported.
The apex court had on August 5 asked an expert panel appointed by it to explore the possibility of exporting the unused stock of Endosulfan
manufactured here to other countries.
The expert committee had recommended its export. The court had on May 13 imposed a complete ban on production, sale and use of Endosulfan holding that human life is more important than anything else and it did not want even a single child to suffer.
The court's order had came on a petition filed by CPI-M's wing Democratic Youth Federation of India (DYFI) seeking a ban on Endosulfan on the ground that it was causing health hazards, including genetic disorders, in Kerala where it is widely used.
The bench had said it was concerned about the right to life of citizens guaranteed under Article 21 of the Constitution and even companies involved in its manufacturing of the controversial pesticide cannot ignore corporate and social responsibility by ignoring the hazards posed to human lives.