State Bank of India on Tuesday said it does not see any stress on its Rs 35,000 crore (Rs 350 billion) gold loan portfolio because of the plummeting prices of the precious metal, but said it will revise its loan-to-value (LTV) ratio from the present 70 per cent.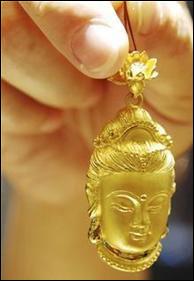 "Generally we keep a 30 per cent limit (of value). Yes, we will have to review that. That (LTV) will be adjusted... We would be revising our advisory for gold loans with the valuations (dropping)," SBI chairman Pratip Chaudhuri told reporters in Mumbai.
The chairman of the country's largest lender said the bank's LTV ratio is based on the prices of the peak value.
"Gold prices have dropped, but still they are above 70 per cent of the peak value," he said.
He added that the bank does not lend against gold in the conventional manner and that its portfolio of Rs 35,000 crore comprises agricultural advances to farmers wherein pledging of gold as a security increases the value of the advances he or she gets.
"As of now there is no immediate impact of the drop in prices. Generally our gold is only moral suasion, very seldom we forcibly take away the gold and realise the gold. To that extent, we are not so much dependent on the value of the gold," he said.
It should be noted that sector regulator Reserve Bank of India has for long been expressing concerns over a potential stress because of the rise in gold loans. It also decreased the LTVs for non-banking lenders to 60 per cent because of concentration risks in April 2012. However, the strongly regulated banks are outside this limit.
The comments from SBI chief come amidst a steep fall in the value of gold today, which has hit a 21-month low of Rs 1,160 to Rs 26,440 tracking weak global cues. Today's fall is the third consecutive decline.
The yellow metal had hit a 15-month low to Rs 27,600 per 10 grams yesterday due to persistent selling by stockists, triggered by a heavy sell-off in global markets.
This also had a drastic fallout on the stocks of gold loan companies and jewellery retailers stocks of gold loan companies, which fell over 13 per cent.
The market reaction came after Reserve Bank has reportedly sought LTV details from pure-play gold loan companies over the past week, since prices started falling.
Marketmen said sustained weakness in overseas markets, where gold plunged over 9 per cent yesterday to its lowest level since February 2011, on worries over Chinese growth and possible sell-off by struggling Cyprus's central bank, continued to influence the trading sentiment here.
In New York, gold plunged 9.35 per cent to $1,360.60 an ounce. The metal has dropped by $200 an ounce, or nearly 13 per cent, in the last two trading days.