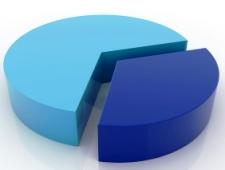 The truncated share sale by the government in steel marker SAIL on Friday received bids for just about 98 per cent of the offer size at the close of trading on stock exchanges.

Offers for 23.53 crore (235.3 million) shares or 97.9 per cent of the 24.03 crore shares on offer, were received at close of trading hours, according to data from stock exchanges.

The indicative price was Rs 63.07 apiece, that would fetch the exchequer Rs 1,484 crore (Rs 14.84 billion) from the disinvestment, as against the government target of Rs 1,514 crore (Rs 15.14 billion).

Offering a measly 1.41 per cent discount over previous closing price, the government had fixed the floor price at Rs 63 per share for selling its 5.82 per cent stake.

However, it failed to cheer the investors -- both retail and institutional -- and in all, the issue got 23,53,48,345 bids amounting to 97.9
per cent of the total offer at the close of the trading hours.
Of the total bids received, 23.44 per cent were with 100 per cent margin, meaning if a bidder decides to withdraw later he/she can do so. And the remaining, 74.46 per cent were with zero per cent margin, according to BSE data.
The issue was a truncated one as the government nearly halved the offer size to 5.82 per cent, from the earlier planned and Cabinet approved 10.82 per cent, amid a weak trend in the stock market.
The share sale would take the proceeds from disinvestment in this fiscal to around Rs 23,800 crore (Rs 238 billion), the highest ever realisation on disinvestment front in a single year, slightly missing the revised estimates of Rs 24,000 crore (Rs 240 billion).