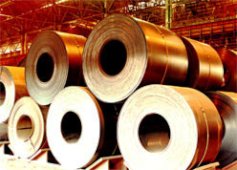 State-owned SAIL said on Monday it has appointed six merchant bankers for managing the company's follow-on public offer and is in discussion with them to finalise the timeline of the share sale programme, which is expected to raise Rs 8,000 crore (Rs 80 billion) in the first phase.


"We have made offers to six merchant bankers to manage the first phase of SAIL FPO. Now, they have accepted it. We are in discussion with them on the timeline (of the FPO) and over the draft red herring prospectus," SAIL chairman C S Verma told reporters on the sidelines of felicitation ceremony of the Commonwealth Games medalists.
SAIL had offered the bankers -- JP Morgan, Deutsche Bank, SBI Capital, Enam Securities, Kotak Mahindra Capital and HSBC, to manage its FPO.
"The first phase of the FPO can be launched in mid- December and if we miss that deadline, it can happen in January-February next year," Verma added.
Speaking on the occasion, Steel minister Virbhadra Singh said that the government is looking at 'opportune time' to launch the share sale program of companies like SAIL and Manganese Ore India Ltd.
The banks will manage the first phase of its 20 per cent share sale programme, under which the government plans to divest 5 per cent of its stake in the company, while the steel giant will issue additional shares equivalent to a 5 per cent stake.
Another 10 per cent stake will be sold under the second phase of the FPO, the timing of which will be decided later.
The two-phase FPO may help raise a total of Rs 16,000 crore (Rs 160 billion).
At present, the government holds a stake of a little over 85 per cent in SAIL, and post-FPO its equity in the company is expected to go down to about 69 per cent.
SAIL wants to part-fund its Rs 70,000-crore (Rs 700-billion) expansion programme with the proceeds from the share sale, while for the government, the stake dilution will help attain its disinvestment target of Rs 40,000 crore (Rs 400 billion) for this fiscal.
Shares of SAIL were trading at Rs 216.80 a share on the Bombay Stock Exchange in the afternoon session, down 1.63 per cent over the previous close.
Along with SAIL, the government is also working on public offer of another PSU Manganese Ore India Ltd.
"The road-show for MOIL initial public offer will begin in mid October, around October 20.
The final road show in the middle of November and the IPO can be launched in November -December," Steel Secretary Pradeep Kumar Misra said.
The government is likely to launch the four-day IPO of MOIL on November 26. The pre-roadshow for MOIL would commence from October 21 in Mumbai. A team comprising officials from MOIL, the Department of Disinvestment and the Ministry of Steel will leave on 24th for Singapore.
Last month, MOIL had filed draft papers with market regulator SEBI for its initial public offer.
Nagpur-based public sector miner will see a total disinvestment of 20 per cent-- the Centre will offload its 10 per cent stake, while Madhya Pradesh and Maharashtra governments will dilute 5 per cent each.
At present, the Centre holds 81.57 per cent in the company, Maharashtra 9.62 per cent and Madhya Pradesh 8.81 per cent stake. Post IPO, Centre's equity in MOIL will come down to 71.57 per cent, while that of the Maharashtra government will reduce to 4.62 per cent.
Madhya Pradesh government will be left with 3.81 per cent share in the company.
It is not yet clear how much amount the share sale would generate. Analysts, however, said it could be in the range of Rs 3,000-4,000 crore (Rs 30-40 billion).
In September, the Cabinet Committee on Economic Affairs had cleared the stake sale proposal by the state-owned firm.
Edelweiss Capital, IDBI Capital and JP Morgan are the book running lead manager to the issue, sources said.
Manganese Ore operates 10 mines, six of which are located in Nagpur and Bhandara districts in Maharashtra, and four in Balaghat district of MP.
It had a net profit of Rs 240 crore (Rs 2.4 billion) in 2009-10, while its net worth stood at Rs 1,587 crore (Rs 15.87 billion).
The government aims to raise Rs 40,000 crore (Rs 400 billion) through divestment this fiscal.
The other disinvestment candidates for FY10 include Coal India, MMTC, and Hindustan Copper, this fiscal.
Last fiscal it had raised Rs 25,000 crore (Rs 250 billion) through stake sale in Oil India, NMDC, REC and NTPC.
On successive increase in steel prices by companies in past two months, the Steel Minister said, "Demand is rising. It is a deregulated sector.
Steel prices have not yet touched any alarming levels. If they touch, of course, we have moral authority over steel prices."