Sahara Group on Friday moved the Supreme Court against the order of the Securities Appellate Tribunal (SAT) dismissing its appeal against market regulator SEBI in a case involving refund of about Rs 24,000 crore (Rs 240 billion) with interest to about three crore (30 million) investors.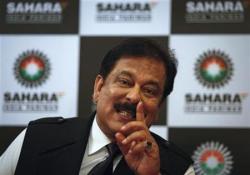 A bench headed by Chief Justice Altamas Kabir listed the matter for hearing on Monday.

The counsel for Sahara told the bench that the company was ready with a draft of Rs 5,100 crore (Rs 51 billion) for deposit in the apex court's registry.

In their appeal before the SAT, two Sahara Group firms had sought the Tribunal's intervention in refund of investors' money and had accused the market regulator SEBI of wrongly charging them of non-compliance
with a Supreme Court order in that regard.
The Tribunal, however, had said that any further direction in the case could be sought and granted by the Supreme Court alone and dismissed the appeal.
The apex court had asked Sahara India Real Estate Corporation Ltd (SIRECL) and Sahara Housing Investment Corporation Ltd (SHICL) to refund an estimated Rs 24,000 crore with an annual interest of 15 per cent, while SEBI was directed to facilitate the refund of this money to about three crore investors of the two firms.
The court had asked the companies to furnish the documents related to these investors to SEBI within 10 days and refund the money within three months, failing which the regulator was asked to freeze the accounts and attach properties of the two firms.