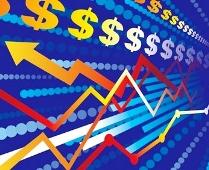 Global rating agency Standard & Poor's on Tuesday pegged India's economic growth rate at 8.1 per cent during 2010 on strong farm output, but cautioned that inflation will remain a worry.
"We expect India's economy to grow by 8.1 per cent in 2010, based on a steep gain in industrial output and resurgent private consumption, investment, and exports," S&P said its Ratings Direct report.
Indian economy has clocked a growth of 8.7 per cent in the first half of the calendar year. It said strong farm production will help drive economic recovery and also bring down food inflation, even though it said, 'inflation remains worrying.'
Food inflation rose for the fourth straight week in mid September and is currently hovering above the 15 per cent mark.
The monsoons have been good so far and India looks set for normal rains this year. Area under cultivation in 2010 is 11 per cent higher than last year, S&P said, adding that this would help in bringing down the inflationary pressure.
"We forecast that the average wholesale-price index inflation will remain broadly in the 8.5 - 9 per cent range in 2010," S&P said.
The overall inflation was 8.5 per cent in August. Meanwhile, multilateral lending agency ADB today upped India's growth forecast for the current fiscal to 8.5 per cent, from 8.2 per cent, but expressed concern over persistent high inflation dampening future expansion.
Further, S&P said that if India could maintain the consumption demand and exports at the current level, it could achieve a gross domestic product growth of 8.3 per cent.
"Growth is also expected to become more balanced; government spending is declining as fiscal stimulus measures are unwinding, and private spending is picking up," S&P said.
Indian economic growth slowed down to 6.7 per cent in 2008-09 from 9 per cent in the previous three years, in the aftermath of the global financial crisis.
To blunt the impact of the global crisis, the government provided stimulus to the economy by cutting taxes and stepping up public expenditure.
This catapulted economic growth to 7.4 per cent last fiscal.