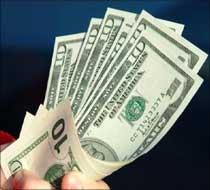 Government on Thursday announced a Rs 900-crore (Rs 9-billion) package for exporters giving a total Diwali bonanza of Rs 1,700 crore (Rs 17 billion), as a pre-emptive move to cushion Indian exports from slowdown in western economies.

The Reserve Bank of India has already notified interest subsidy of two per cent for handicrafts, handlooms, carpets and small and medium exporters.

The benefits will largely accrue to exporters of engineering goods, pharmaceuticals and chemicals.

Those scouting for markets in Latin America, Africa and CIS (Commonwealth of Independent States) will be rewarded.

These measures have been incorporated in the annual supplement of the Foreign Trade Policy (2009-2014), released by Commerce and Industry Minister Anand Sharma.

Commerce Secretary Rahul Kullar said, "In a ballpark range, excluding interest subvention, it will be around Rs 800-900 crore (Rs 8-9 billion).

"For interest subvention it will be around Rs 800-Rs 1,000 crore (Rs 8-10 billion). . .a total of about Rs 1,700 crore (Rs 17 billion)."

Fifty products in engineering, pharmaceuticals and chemicals would get special bonus of additional one per cent of export value between October and March this fiscal.

Shipments to Latin America, Africa and CIS regions will also be eligible for additional one per cent duty credit besides three per cent already being given.

This is in sync with the export diversification strategy in the wake of demand sluggishness in the US and European markets.

According to the latest IMF report, risk to Asian economies is 'decidely'
increasing because of European debt crisis and slowdown in American markets.
"It is a Diwali bonanza. We were not expecting this much," President of the exporters' body FIEO Ramu S Deora said.
The Commerce Ministry has announced these incentives in a difficult global environment, although merchandise exports have grown 52.1 per cent in the first half of this fiscal.
Sharma said that these incentives are important as the major markets -- the US and Europe -- are still not out of woods. These two markets account for about 30 per cent of India's total exports.
"Times are still challenging. There is a very limp recovery in the US and virtually no recovery in Europe. . .these two countries are having their own myriad problems at present.
"We have to ensure that markets in which we are engaged, the year-on-year growth should continue," Sharma said.
He said that apparel sector was given duty credit under Market Linked Focus Product Scheme for export to the US and Europe.
The 2 per cent duty credit would be available to exports made during 2011-12.
It has been decided to extend MLFPS benefit for exports of agricultural tractors (over 1800 cc capacity) to Turkey.
The list of items under FPS has been expanded to include 130 additional item mainly in the sectors of chemical, pharmaceutical, textiles, handicrafts, engineering and electronics sector.
The products covered under FPS are entitled for 2 per cent duty credit scrip.
The ministry declared Firozabad for glassware, Bhubaneswar for marine products and Agartala for Bamboo and cane products as town of export excellence to boost shipments from these areas.