Hailing from one of the oldest business families of Kolkata, R P Goenka came to be known as the country's 'takeover specialist' who made his mark in diverse businesses, ranging from tyre to music.
The Goenka family's root in the city goes as far back as 1820 when Ramdutta Goenka came here from Rajasthan and started business with the British East India Company. By 1900s, the family established themselves in diverse businesses.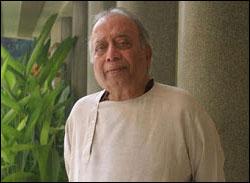 Born on March 1, 1930, Rama Prasad Goenka, better known as R P Goenka, was the eldest son of Keshav Prasad Goenka and Rukmini Devi.
R P Goenka, graduated from PresidencyCollege in Kolkata and did his management course later from HarvardUniversity, joined the family business.
After a division of assets among his three brothers, he set up RPG Enterprises in 1979 with a total turnover of around Rs 100 crore (Rs 1 billion).
The 'takeover specialist' acquired one large company after another during the 80s, expanding the group's footprint across several businesses - tyre, carbon black, transmission, pharmaceuticals, IT, power generation, music, etc.
The major companies included in his empire are CEAT, CESC, Spencer's Retail, Saregama, KEC International, RPG Life Sciences and ICML.
In 1990, his sons Harsh Vardhan and Sanjiv took over reins from him as chairman and deputy chairman respectively of the group.
Later in 2011, Sanjiv Goenka set up RP-Sanjiv Goenka Group to have his own brand identity while Harsh Goenka continued as chairman of RPG Enterprises.
R P Goenka remained chairman emeritus of both the groups that manage altogether 23 companies.
Of them, 10 companies including CEAT, RPG Life Sciences, KEC International and Zensar Technologies are managed by Harsh Goenka from Mumbai. The total turnover is around Rs 16,000 crore.
Sanjiv operates 13 company chain and a Rs 14,000 crore (Rs 140 billion) empire from Kolkata. His firms include CESC, PCBL, Music World, Spencer's Retail and Saregama.
A former member of Rajya Sabha, R P Goenka had served as president of the Federation of Indian Chambers of Commerce and Industry (FICCI) and Confederation of Asia-Pacific Chambers of Commerce & Industry.
For several years he was Chairman, Board of Governors, IIT-Kharagpur, which later conferred on him an honorary Doctor of Science degree.
Other honours received by R P Goenka included 'The Order of the Sacred Treasure Gold and Silver Star' from the Emperor of Japan and the Lifetime Contribution Award from the All India Management Association.
Photograph: Kind courtesy, walloffame