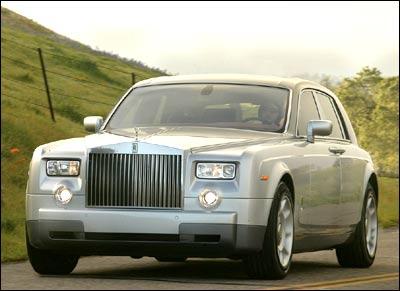 The luxurious wheels of Rolls-Royce are all set to move on Indian roads with the company making a come back to the country after 50 years.
Part of the BMW group, Rolls-Royce will return to India with the Phantom model, which will be priced upwards of Rs 3 crore (Rs 30 million).
"We are delighted to return to India today, a country with which Rolls-Royce has had a close relationship for much of the last century. As India enjoys a surge in economic growth, we are delighted to bring the Phantom to a country, which has a deep appreciation of the unparalleled excellence, which the Rolls-Royce name stands for," Rolls-Royce Motor Cars regional director (Asia Pacific) Colin Kelly said.
Of late many luxury carmakers have shown interest in the Indian market. DamilerChrysler already has a plant in India for its Mercedes brand while it also sells the Maybach, which is priced a whopping Rs 5 crore (Rs 50 million). Audi is all set to come to the market and Bentley is already here.
Reflecting the bullishness of global auto biggies on the Indian market, BMW recently said it was contemplating setting up a manufacturing facility in India.
Rolls-Royce said the Phantom, unveiled in 2003, had rapidly established as the clear leader worldwide in the super-luxury car market. The model is built at Rolls-Royce Motor Cars' new head office and manufacturing plant in Goodwood, West Sussex, England.
The Phantom's features include a custom-developed aluminium spaceframe and rear coach doors - hinged at the back - to allow the most elegant access to and exit from the passenger compartment.
Power comes from tailor-made 6.75-litre V12 engine, which offers ample power and huge reserves of torque propelling the Phantom effortlessly from 0-100 km/h in just 5.9 seconds.
Navnit Motors, which has enjoyed a long-standing relationship with the BMW Group in India, has been appointed as authorised Rolls-Royce Motor Cars' dealer in Mumbai.
"There is considerable interest among potential customers and we are confident that the Phantom will be highly successful here," Navnit Kachalia, CMD Navnit Motors, said.