Research In Motion (RIM), the maker of BlackBerry smartphone, has appointed Thorsten Heins as President and Chief Executive Officer of the company with immediate effect.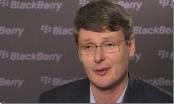 "Acting on the recommendation of its (RIM) Co-Chief Executive Officers to implement the succession plan they previously submitted to the board, it has unanimously named Thorsten Heins as President and Chief Executive Officer," RIM said in a statement.

Heins was also appointed to RIM's board. The board acted after conducting its own due diligence.

Heins joined RIM from Siemens Communications Group in December 2007 as Senior Vice President for Hardware Engineering and became Chief Operating Officer for Product and Sales in August, 2011.

Further, the company has also appointed Mike Lazaridis, former Co-Chairman and Co-CEO, as Vice Chairman of RIM's board and Chair of the board's new Innovation Committee, with immediate effect.

As Vice Chairman, Lazaridis will work closely with Heins to offer strategic counsel, provide a smooth transition and continue to promote the BlackBerry brand worldwide, the company said.

On the transition to CEO by Heins, Lazaridis said, "There comes a time in the growth of every successful company when the founders recognise the need to pass the baton to new leadership. Jim Balsillie and I went to the board and told them that it was time for a new leader to take it through that phase and beyond."

Jim Balsillie remains a member of the board. Lazaridis said that decision to move from Co-Chairman to Vice-Chairman of the board is in order to return the public's focus to what is most important, "the great company we have built, its iconic products, global brand and its talented employees."

For the three months ended November 26, 2011, the company has a strong balance sheet with approximately USD 1.5 billion in cash at the end of the last quarter and negligible debt.

The company reported revenue of USD 5.2 billion in the last quarter, up 24 per cent from the prior quarter, and a 35 per cent year-to-year increase in the BlackBerry subscriber base, which is now over 75 million.

Besides, Barbara Stymiest, who formerly served as a member of Royal Bank of Canada's Group Executive and has been a member of RIM's Board since 2007, has been named the independent Board Chairman.

John Richardson, formerly Lead Director, will remain on the board.  Prem Watsa, Chief Executive Officer of Fairfax Financial Holdings, also was named to the board, expanding it to 11 members.

RIM saw its share of the US smartphone market drop to about 9 per cent in the third quarter of 2011 from nearly half the market two years earlier.

The company's stock price tanked about 75 per cent last year.

Lazaridis said with BlackBerry 7 phones out now, the PlayBook 2.0 tablet shipping in February and BlackBerry 10 expected to ship later this year, the company is entering a new phase and "we felt it was time for a new leader to take it through that phase and beyond."