Reliance Industries Ltd's chairman Mukesh Ambani may be in a hurry to enter new areas of businesses like telecom, power and financial services, but he is unlikely to put his life sciences and healthcare plans on a fast track.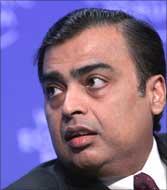 Reliance Group was planning to revive its plans to set up a large integrated pharmaceutical company with generic focus, but this would be executed in a phased manner, with investments in new plants and facilities over the years, sources close to the developments said.
Its pharma focus would be on next-generation therapies, high-growth speciality pharmaceuticals and difficult to make drugs, mainly targeted for exports.
Three years ago, the group was planning to set up a pharmaceutical manufacturing complex at Jamnagar in Gujarat, with three-four manufacturing units, at an investment of Rs 1,200-1,400 crore (Rs 12-14 billion) to make traditional generic tablets and capsules, similar to the drug businesses of major Indian pharmaceutical companies. It was scaled down and re-organised last year to start in a small way, with focus on bulk drugs.
"The earlier plan of investments in Jamnagar will be reviewed at an appropriate time," said K V Subramaniam, chief executive and president of Reliance Life Sciences - a privately-held company that spearheads the pharmaceutical and health care ambitions of Mukesh Ambani Group.
The group has identified four therapeutic areas to start its global pharma business - oncology, peptides, steroids and hormones. The company will soon launch 15 formulations in global markets in these areas. Of these, Reliance Life Sciences already launched four cancer drugs in the Indian market. These are temozolomide to treat brain tumour, capecitabine for breast cancer, pemetrexed for lung cancer and blood cancer drug imatinib.
"We plan to export these formulations to semi-regulated markets, as well as also enter regulated markets such as the US, Europe, Australia and Japan. Drug Master Files (marketing applications) have been filed in USA for three molecules," said Subramaniam in an e-mailed response.
The group has set up a pilot plant and a facility for oncology bulk drugs at the campus of Reliance Life Sciences in Navi Mumbai. The focus is on expanding the active pharmaceutical ingredient facility and a new oncology formulations manufacturing unit at Rabale in Navi Mumbai, according to him.
While many Indian drug majors, who follow a traditional generic model for growth, are facing difficulties due to the changing global pharmaceutical landscape, Reliance's pharma plans will revolve around specialty range of pharmaceutical products.
"This, combined with integration with development, API and formulations marketing and the synergies with other initiatives of bio-pharmaceuticals, molecular medicine and regenerative medicine, will give a significant competitive advantage," said Subramaniam.
The eight-year-old company, in which Mukesh Ambani has pumped in several crores in his personal capacity, is into biotech drug research, next generation stem cell therapies, bio-diesel production, cord blood banking and clinical research.
Sources said the group's investments in healthcare would revolve around cutting-edge technologies and products that were for the future. The Reliance Group, through Reliance Life Sciences, had teamed with US-based investment management company MPM Capital to launch an India fund, focused on healthcare, with a corpus of $100-150 million a few years ago. The aim of the fund is to invest in such new technologies.
Reliance is also developing a large in-house new technology research and development facility, Reliance Innovation Centre, based out of Pune, under the guidance of former Council of Scientific and Industrial Research chief R A Mashelkar, a board director of RIL. The group had already invested several hundred crores to set up research and development laboratories and tools, said sources.