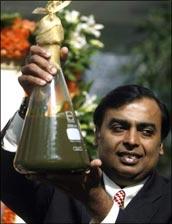 Creating value for shareholders, Mukesh Ambani-led Reliance Industries on Wednesday said it will issue one bonus share for every share held in the company, while also announcing an interim dividend of Rs 13 per share for FY 09.
"The board of directors of Reliance Industries Ltd today proposed, subject to shareholders approval, issue of bonus shares in the ratio of one share for every share held," RIL chief financial officer, Alok Agarwal, said in Mumbai.
The board also proposed an interim dividend of Rs 13 per share for the fiscal 2008-09, which would result in a payment of Rs 2,219 crore (Rs 22.19 billion) including dividend distribution tax of Rs 322-crore (Rs 3.22 billion), Agarwal said.
"We had committed to reward our shareholders on successful completion of our two world-class projects. I am really delighted to share with you the excitement we all have in flawless execution of the upstream project which has been recognised globally as a defining accomplishment," RIL's chairman, Mukesh Ambani, said in a statement.
"Our refinery project has also set new benchmarks and made Reliance the operator of the largest refinery site anywhere in the world. These are achievements that we should all have pride in and are milestones in our journey of creating value for our shareholders," he added.
"Reliance is now ready to invest in the future. It has a strong balance-sheet, large cash reserves and substantial financial flexibility owing to its treasury stock holding, which have a current value of nearly Rs 40,000-crore (Rs 400 billion)," Agarwal said.
RIL, which underwent a demerger process in 2005, said it created value of Rs 247,000 crore (Rs 2,470 bilion) in market capitalisation and earning its shareholders 40 per cent compounded return.
The company reported a consolidated net profit of Rs 15,296-crore (Rs 152.96 billion) for the year ended March 31, 2009. RIL had registered a net profit of Rs 15,324 crore (Rs 153.24 billion) (from ordinary activities) in FY 08.
The figures include those of Reliance Petroleum Ltd (RPL), which amalgamated with the company with effect from April 1, 2008, and are therefore, not comparable with those of the previous year.
RIL has produced a total of 2.7 million barrels of oil and 5 billion cubic metres (bcm) of gas from its KG D6 facility off India's east coast after production commenced on April 1.
Big surprise
Investors' darling Reliance announced issue of bonus shares after a 12 year-hiatus, a move that analysts expect would flare up the markets on the eve of Diwali.
The company founded by Dhirubhai Ambani, credited for drawing retail investors to stock markets in the 1970s, recommended an issue of one bonus share for every share held by shareholders and would help unlock value.
The shares fell 1.57 per cent to Rs 2,099 on the Bombay Stock Exchange, but is expected to jump after the unscheduled announcement.
Analysts said that the surprise announcement of a bonus issue by RIL, will definitely act as trigger for the market on Thursday.
"This comes as a big surprise to the shareholders of Reliance Industries and would propel investor sentiment. The scrip, which has been under-performing for the past few days, is likely to open strong. It is a move by RIL to win back ivestor confidence," SMC global vice president Rajesh Jain said.
The last time Reliance Industries announced a bonus issue was in October 1997.
"Both the bonus shares and dividend will accrue to the shareholders of RPL," RIL CFO Agarwal said.
Geojit BNP Paribas Financial Services Research Head Alex Mathew said, "The company had last announced a bonus issue way back in 1997, so this is good move in the interest of investors. However, after an initial surge some profit booking may come into the stock later in the day."
The bonus issue could help regain flagging investor confidence in the scrip. RIL scrip has been on a downslide since October one and has plunged over four per cent to Rs 2,099 today from Rs 2,201 on September 30.
Reliance Power, part of the other Reliance group led by Anil Ambani, had announced a 3:5 bonus issue in February 2008 after its disappointing debut at the bourses.
"The proposal for bonus and dividend continue RIL's tradition of awarding shareholders on a sustained basis. If we look at our track record since we listed in 1978, our shareholders have got 25 per cent compounded return over these 31 years since it became a public company," Agarwal said.
"The announcement can act as a trigger point for the stock (RIL) which was mired in controversy. RIL management is convinced that it can serve the investor interest and so it is thinking about increasing the equity share capital. It can hold up the momentum and the counter can outperform the Sensex in the coming days," Unicon Financial CEO G Nagpal said.