New players in the organised branded garment retail industry such as Koutons and Cantabil along with a host of other brands are going through a tough time, thanks to the rapid expansion via debt and their deep discounting model.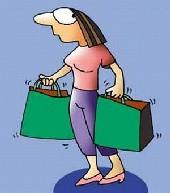 Promoter stake in Koutons has come down by more than 50 per cent in the past one year on pledging of shares. It stood at 32.01 per cent on December 31, 2010 compared to 65.80 per cent a year ago.

Financially too, the company's performance has seen a steady decline. Compared to a net profit of Rs 15.79 crore (Rs 157.9 million) in the third quarter of 2009-10, it posted a loss of Rs 317.10 crore (Rs 3.17 billion) in Q3 of 2010-11.

The problems faced by companies such as Koutons are reflected in the exodus of top level management, closure of stores and supply chain bottlenecks.

In the second half of the last fiscal, Koutons has seen around five to six top management level exodus. Cantabil Retail, another listed company that operates similar stores (though smaller formats) giving deep discounts, is facing rough weather.

Apart from these two listed companies, a host other companies – TNG, TQS, Liverpool, Cobb and Priknit, etc – that forayed into the branded retail space in recent years are not doing well either.

There is no doubt that all these companies took off really well as they were the first to reach smaller cities and towns. However, in a bid to expand faster than competition and attract customers through discounting, their business model went haywire.

The expansion spree led to blockage of high cost funds while they struggled to maintain the per square feet sale.

Industry experts are of the view that the main problem with such retailers is their deep discounting model where the MRP is abnormally high and aggressive discounting is followed.

"Customer has seen through this and is looking for honest prices. They are looking for true bargains and not perceived bargains," says Akashdeep Sandhu, who spent three years at Koutons as GM (Sales & Marketing).

Another industry official is of the view that the fragmented nature of the apparel market where trusted local players, national brands and private lines compete against each other, creating a sustainable national recall for smaller brands is thus fraught with challenges, requiring heavy investments in brand-building and a long time.

For advertising and brand building, these players are forced to extend their reach geographically which makes the supply chain management more complex.

To match with increasing demand, their stress on producing volumes also increases. Inadequate logistics and improper supply chain management create huge problems for these players.

Sandhu, who has now moved to a new retail chain Constello, says that the retail garment business will improve when a few of the players shut shop and those present shift to honest pricing since discount is a 'never ending game'.

These brands did well initially when they were the first to reach smaller cities and towns. However, with time, the large format retail chains such as Big Bazaar have also established presence in such cities, drawing and educating customers to a new world of shopping experience.

"There was a time when consumers were excited about getting a branded product cheap. They have now matured and are giving importance to quality aspects as well as a better shopping experience.

They now prefer to buy less but better quality brands. This would be affecting the deep discounting stores," says Zahir Abbas, associate vice president (Retail) at management consulting firm Technopak. Abbas added that there would still be a market for smaller brands but their growth will taper down.

Pinaki Ranjan Mishra, partner and national leader (Retail and Consumer Product Practice) at E&Y is of the view that such retail chains grew too fast while underestimating the need for professional management and financial back up.