Norwegian telecom company Telenor said it would seek damages from the Indian government if the issue of its 22 cancelled licences was not resolved.
It did not specify a compensation amount in its notice to the government, but said it intended to "seek compensation for all investment, guarantees and damages". It invested Rs 14,000 crore (Rs 140 billion) in India through a unit in Singapore.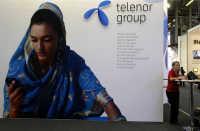 This was the second notice to New Delhi, after Russian company Sistema last month asked the government to resolve the issue of its cancelled licences in six months, citing a bilateral pact.
Telenor said it would seek international arbitration if a solution was not found.
"We have informed the Government of India of our intent to invoke the provisions of the Comprehensive Economic Cooperation Agreement between India and Singapore," Telenor spokesperson Glenn Mandelid said in an emailed statement.
The company said it was hopeful it remained the government's intent to protect and encourage bonafide foreign investments in the country.
"We are convinced we can resolve this matter through continuing dialogue with the government such that Telenor remains a serious and long-term
participant in the Indian market that brings the benefit of competition to the Indian consumers," the statement stated.
DoT secretary R Chandrashekhar said: "We have not received any notice."
Corporate affairs minister M Veerappa Moily said he had not seen "the letter" from Telenor. "I am yet to see the letter. We can examine it legally within the parameters of my ministry," he told reporters outside Parliament House.
"There is a thing like a rule of law. Whether you go to international law... But we'll have to examine within the parameters of our law and the law of the land," Moily said, according to an agency report.
Telenor has a 67.25 per cent stake in its Indian joint venture with realty company Unitech, Unitech Wireless.
It is fighting a battle with Unitech in the Company Law Board. It accused Unitech of "fraud and misrepresentation" after the licence cancellation order and said it would find a new partner and transfer its telecom business assets in India to a new company.
The Supreme Court on February 2 ordered cancellation of all 122 licences issued in January 2008 by the then telecom minister, A Raja. Telenor has also filed a petition in the apex court, seeking a review of the cancellation order.