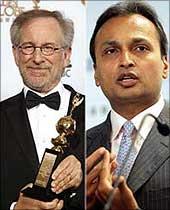 Anil Ambani's Reliance Big Entertainment and Steven Spielberg's DreamWorks Studios have announced its first three films. DreamWorks Studio, a 825 million US dollar deal, is a 50:50 partnership between Reliance Big Entertainment and Steven Spielberg.
The names of the three projects are -- 'Pirate Latitudes', 'I am Number 4' and 'Harvey'.
A Reliance Big Entertainment statement issued in Mumbai on Thursday said the three projects are a mix of adventure along with book/ play adaptations.
'Transformers' director Michael Bay that grossed over $700 million worldwide may direct the film  'I Am Number 4'.
DreamWorks has set Al Gough and Miles Millar to adapt 'I Am Number 4', the novel co-written by 'A Million Little Pieces' author James Frey and Jobie Hughes.
The duo's scripting credits include 'Spider-Man 2', 'TheMummy: Tomb of the Dragon Emperor', 'Shanghai Noon','Shanghai Knights'.
The '4...' story line involves a group of teenaged alien refugees assimilating to high school on Earth when they discover that their home planet's enemy is now hunting them on their new turf.
Spielberg plans to produce it and is considering directing 'Pirate Latitudes', an adaptation of a novel by late Michael Crichton. He had worked with Spielberg for 'Jurassic Park', 'ER together' for television and the tornado movie 'Twister'.