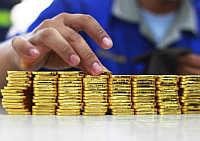 Reliance Mutual Fund has recorded a total turnover of Rs 1,413 crore (Rs 14.13 billion) in gold ETF on Dhanteras, an auspicious occasion for gold buying as per Hindu tradition.
"Reliance Gold ETF (exchange traded fund) clocks Rs 1,413 crore on stock exchanges (BSE and NSE), it's highest volume in single day," the company said in a statement.
This was also the first time Reliance MF has crossed Rs 1,000 crore (Rs 10 billion) mark in its ETF in a single day. This amounts to a majority 63 per cent market share in ETFs during Dhanteras.
Reliance ETF also topped volumes on both exchanges out of the 14 fund houses that provide Gold ETFs, it added.
Dhanteras is considered an auspicious day to buy precious metals like gold and the exchanges held a special trading session on Sunday.
Gold ETFs track gold prices and each unit of these ETFs is generally calculated at the rate of one gram of the metal.
It carries advantage like 99.5 per cent purity assurance over physical gold.
Overall, the top two exchanges BSE and NSE recorded a total turnover of over Rs 2,200 crore (Rs 22 billion)
in gold ETF on Dhanteras.
The total traded value of gold ETF on the NSE stood at a record value of Rs 1,337 crore (Rs 13.37 billion), while the BSE recorded a turnover of Rs 894.55 crore (Rs 8.94 billion).
Currently, gold prices are ruling around Rs 32,000 per 10 grams.
"Rising gold prices over the years has led people rush to buy the yellow metal... Over the last decade, gold investments have been one of the best performing asset classes moving from about Rs 4,000 per 10 grams to over Rs 30,000 today," Religare Securities President (Retail Distribution) Jayant Manglik said.
The exchanges conducted a special trading session in gold ETFs between 1100 hrs and 1530 hrs on the day. The special session was organised to give an opportunity to investors to invest in gold.
Besides, the bourses had also waived off the transaction charges for all trades in gold ETFs to cash in on the investor demand.