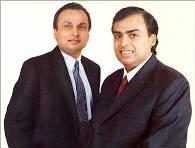 Welcoming the Ambani brothers' agreement to smoke the peace pipe by terminating the non-compete agreements between them, market analysts termed the development as a harbinger of good times for both RIL and ADAG companies and their shareholders.
Market experts gave an upbeat reaction to the Ambani brothers' agreement to cancel all the existing non-compete pacts between the two groups executed in January 2006.
"It is a very positive development for both the groups as they will be able to deploy their energies in more productive areas now. The move will also drive the shares of the two Ambani groups northwards," Purpleline Investment Advisors director and chief executive PK Agarwal said.
"This would benefit all the shareholders of both group. RIL shareholders could bank on improved bottom-line of RIL due to increase in gas prices. The ADAG group shareholders could look out for some pleasant surprise in the form of some more compensation," CNI Research CMD Kishor Ostwal said.
On Sunday, the two Ambani brothers agreed to cancel all existing non-compete agreements between the two groups executed in January 2006, saying this would eliminate any room for "disputes".
As a result, Anil Ambani-led group can enter into oil, gas, retail and petrochemical businesses while Mukesh-led RIL could make forays into telecom, power and financial sector arenas.
"RIL is expected to generate huge cash flows from its gas business, which it can utilise to acquire new businesses. For the ADA Group, it has positive bearing also, as it can now enter new areas for business. The ADA Group can now fully focus on expanding its power business among other things," Agarwal added.
Shares of Mukesh and Anil Ambani group companies soared with RIL closing up 2.58 per cent, while ADAG's RCom soared 10.87 per cent and other ADA Group firms like R-Capital gained 4.80 per cent, Reliance Power 7.8 per cent, RNRL zoomed 22.5 per cent, Rel-Infra 6.23 per cent,and Reliance Mediaworks 3.9 per cent. The other Mukesh Ambani group company RIIL jumped 11.35 per cent to Rs 783.55.
Echoing similar sentiment, Angel Broking chairman Dinesh Thakkar said, "the cancellation of the non-compete clause is a win-win situation for both the groups and provides both the companies to expand beyond and also venture into segments, which was restricted earlier, thus opening up further growth avenues for both the companies."
Both RIL and ADAG have also announced to expeditiously negotiate a gas deal in accordance with the Supreme Court order earlier this month, the groups of both Mukesh and Anil vowed to fulfil vision of their father Dhirubhai Ambani, after whose death they fought acrimoniously and separated.