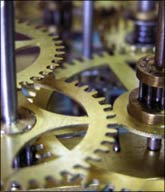 Larsen & Toubro, India's largest engineering company, is restructuring its businesses under nine empowered business verticals with separate boards.
The exercise aims to tap opportunities in all L&T's businesses and make the Rs 47,000-crore (Rs 470-billion) turnover firm nimble enough to take on increasing competition from entrepreneurial companies, senior L&T executives said at a press conference in Mumbai on Monday.
L&T operates in 152 businesses, including nuclear reactors, power generation equipment, airports, oil & gas pipelines, roads, computer software and financial services.
The new structure will help give the group significant leadership bandwidth under various business heads and empower them, they said.
Each of the 'independent companies' will be managed by separate boards with eight to nine members, each with a chairman, business head, three members from the business unit, three non-executive directors and a representative from L&T's board.
Though the nine ICs and their boards will not be legal entities, they will have independent management powers and freedom to make investment decisions. However, powers related to treasury management will vest only with the board of L&T, said J P Nayak, director & president of L&T.
The nine operating companies are: Projects (including hydrocarbon), heavy engineering, machinery & industrial products, water, power equipment, infrastructure, metals & minerals and electrical T&D automation products, mechanical engineering &
industrial products.
In addition, large subsidiaries like L&T Finance and L&T Infotech will also have independent boards of directors.
Earlier, L&T's businesses and subsidiaries were aligned mainly under engineering & construction, electrical & electronics, machinery & industrial products, IT & engineering services, finance, HR and development, and financial services. Of these, the first was the major revenue earner.
"We initiated this process three years ago and have set up the nine operating companies and will appoint independent directors for the nine units within two months," said Nayak.
In the last five years, L&T has grown three-fold and some senior executives are retiring in the next three years.
The new structure will help in an effective management transition, noted Nayak.
L&T's chairman & managing director A M Naik is scheduled to retire in 2012 after 45 years with the company. Chief Financial Officer Y M Deosthalee will leave L&T to head L&T Finance Holdings, which is expected to be listed in a few months.

K V Rangaswami, president of the construction division, will also retire in June, said sources.