The Queen could be broke in two years – courtesy the recession.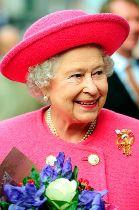 The figures revealed by Buckingham Palace show that the Royal Family could be broke by 2012.
The Queen was forced to borrow 6.5million pounds from an emergency fund so that she could carry out her duties last year.
She has only 15.2 million pounds left in reserve and might have to withdraw another 7.2 million pounds to for basic expenses in 2010.
The Queen receives 7.9 million pounds of public money every year to pay for staff and other costs, but according to Chancelllor George Osborne this sum will remain frozen for the coming year, reports The Daily Star.
"The royal household is acutely aware of the difficult economic climate," Sir Alan Reid, Keeper of the Privy Purse, said.
"We're freezing the salaries of senior staff so we can provide worthwhile increases for those on lower salaries," he added.