Recalled to ride out the bad times for Infosys, its Chairman N R Narayana Murthy today said the task of rebuilding a "desirable" Infosys would take at least 36 months and there would be some tough decisions resulting in "pain."
"The challenge is daunting and the task is tough," said Murthy in a candid address to shareholders at the 32nd Annual General Meeting in Bangalore, two weeks after he was recalled and made Executive Chairman of Infosys which has reported poor earnings disappointing investors.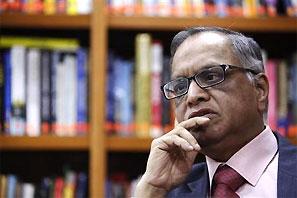 He said "the task of rebuilding a desirable Infosys will take at least 36 months, even with a high quality team and full dedication of every Infoscion. In the process, there will be some tough decisions resulting in pain as we move forward."
Murthy sought the shareholders "understanding, support and encouragement in this exciting and rewarding journey of the next three years."
Murthy, who had shed executive role seven years ago and retired as head of Infosys in August 2011, was made Executive Chairman on June 1, replacing K V Kamath during whose tenure the company shares slumped 15 per cent.
In a move that surprised many, Murthy had also brought in his son Rohan Murty as his executive assistant.
Murthy said since the company's focus on the third revenue stream was blurred in the last two years, it has to refocus on winning large revenue-yielding outsourcing projects in the short-term.
The company should also ensure that it accelerates its progress in the first two streams in the medium to long term.
The first two revenue streams talks about focus on opportunities from consulting-led, end-to-end solutions leveraging technology for higher margins and developing intellectual property-based solutions to delink revenues from effort, he said.