The real estate industry is divided over the impact of the proposed foreign direct investment (FDI) in multi-brand retail.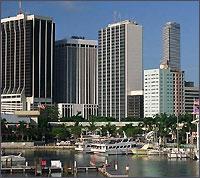 Some claim it would result in increased demand for commercial real estate, while others say there would be minimal impact in the short term. Also, the growth in e-commerce will ease the pressure on real estate demand.

Sanjay Dutt, chief executive officer (business), Jones Lang LaSalle India, said, "Opening up of new business avenues in retail results in increased demand, and subsequently, higher commitment to and absorption of shopping centre space."

The company estimates the increase in real estate demand to be 10-15 per cent in the first year and up to 35 per cent by the third year.

According to Dutt, the organised retail sector will increasingly catch the attention of real estate development companies and investors, including private equity firms and fund managers who have so far been cautious.

Anshuman Magazine, chairman and managing director of C B Richard Ellis (South Asia), said foreign retailers were not expected to rush to India once the retail sector opened due to the all-round
slowdown in the economy. "It's difficult to assess how many foreign retailers will come," he said.
While pointing out there might be some uptick in demand, the real impact could be assessed only 6 to 12 months after the Cabinet decision, Magazine said.
Arvind Singhal, chairman of Technopak Advisors, argued there would not be much of an impact on the commercial real estate space. He reasoned in three years, there might be an absolute blast in digital shopping. "Non-brick and mortar retailers are expected to grow significantly, thereby reducing the pressure on commercial real estate," he said.
Although every major retailer would have had some look at India, riders to the FDI and infrastructure limitations might hold back many foreign players for now, analysts said.
For instance, Britain's third-largest grocer, Sainsbury's, which had last year hinted that India was on its radar, said, "International expansion is not part of our short-term plans." Last year, Sainsbury's had sent a team to Shanghai to check out the Chinese market. At that point, Daren Shapland, the head of strategy, had told India was also on his shopping list of new territories.