The Reserve Bank of India (RBI) is largely expected to announce liquidity easing measures in the second quarter review of monetary and credit policy on Tuesday, a poll of 21 market participants conducted by Business Standard shows. High inflation continues to be an obstacle in lowering policy rates as of now.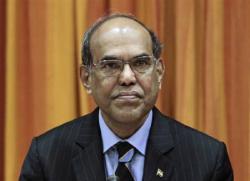 About 70 per cent of the respondents were concerned about the rising liquidity deficit and expected RBI to react with a 25 basis points (bps) cut in cash reserve ratio (CRR).
With bank borrowings from RBI's Liquidity Adjustment Facility (LAF) window back to above Rs 1 lakh crore (Rs 1 trillion) levels, some respondents also felt the central bank could resort to a higher cut of 50 bps in CRR.
Indranil Sen Gupta, India economist at Bank of America Merrill Lynch, said 50 bps cut in CRR would pull down lending rates 25 bps. Most respondents also expect RBI to inject liquidity through bond purchases under open market operations.
At present, CRR is 4.5 per cent. RBI had reduced it by 25 bps in the mid-quarter monetary policy review held in September, citing concerns over liquidity at the onset of the festive season.
"In light of the seasonal pick-up in credit demand, the cental bank may consider a further reduction in the cash reserve ratio by 25-50 bps to support economic activity," said analysts at Icra Ratings.
Sticky headline and core inflation might not allow RBI to alter policy rates, they added. At present, the policy rate or the repo rate is at 8 per cent. An economist from a large private bank felt only political pressure might lead to RBI easing policy rates at this juncture.
"If we go by economic facts, the case for a policy rate cut looks difficult," the official said. RBI has kept policy rate unchanged since April, citing upward risks to inflation.
Leif Eskesen, chief economist for India and Asean at Hongkong and Shanghai Banking Corporation, noted inflation risks were still to the upside and cutting the policy rate under these circumstances runs the risk of unhinging inflation expectations.
"Moreover, the central bank could in this case also be perceived as turning softer on inflation or caving in to political pressures to cut, therefore not being driven solely by what it thinks is the right thing to do," said Eskesen.
Economists at Nomura were of the view that there was a possibility of RBI cutting CRR by 25 bps as a positive response to the government initiating reform process.