Rating agencies on Wednesday warned against more exposure to debt-ridden Kingfisher Airlines, saying more debt may hit banks' credit profiles and add to the burden of provisions.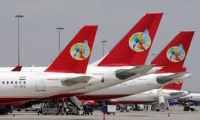 State Bank of India, Bank of India, Bank of Baroda, IDBI Bank and Punjab National Bank have treated loans to the Vijay Mallya-controlled airline as non-performing assets (NPAs) in the third quarter, as it defaulted in repayments.

The banks also had to make huge provisions, as well as reverse the part of interest income booked on this account.

Ananda Bhaumik, senior director, Fitch Rating, said state-run banks faced pressure from concentrated exposure to stressed sectors like aviation, electricity boards and infrastructure.

"Given the uncertainties in these businesses, banks have a low appetite for additional exposure. However, if such concentrations continue to grow, the resulting pile-up of stressed assets could be negative for banks' credit profiles and their viability ratings," he said.

For the quarter ended December, Kingfisher Airlines' losses stood at Rs 444 crore (Rs 4.44 billion), against Rs 254 crore (Rs 2.54 billion) in the year-ago
period. It had carried out a round of restructuring in November 2010.
As part of the debt-recast package, banks had converted part of the loans into equity and increased the tenure of the repayment.
Vijay Agarwal, head of bank and financial sector rating at CARE, said any additional exposure to the entity under stress -- NPAs and restructured assets -- would add to pressure on the credit profile. The rating agency would closely monitor the effect of such additional exposure on banks.
Last week, lenders to Kingfisher met at the State bank of India headquarter in Mumbai to take stock of funding proposals worked out by SBI Caps.
Advising caution on additional funding to the aviation sector, Naresh Takkar, chief executive and managing director, ICRA, said given the scale of exposure to the ailing carrier, a 'too-big to fail' status may have been behind the readiness to offer additional support. However, he added it was not clear how banks would secure their interests for extra funding.