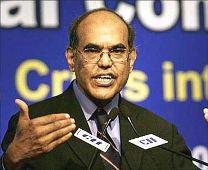 Reeling under slowdown, India Inc on Tuesday hailed Reserve Bank's move to reduce repo rate and cash reserve ratio by a quarter per cent, saying it will spur growth and ease the prevailing tight liquidity condition.

"It is a positive step which will infuse liquidity and help in catalysing growth," Industry Minister Anand Sharma said in Agra.

Industry houses are emphatic with the RBI pruning repo rate and CRR by 0.25 per cent each after a long nine months in its third quarter monetary policy review.

"It was much needed given that GDP growth is moderating and industrial production is decelerating month after month.

The rate cut is an encouraging move when high interest rates were having negative impact on the country's economic growth," JSW Steel Joint Managing Director and CFO Seshagiri Rao said.

Ficci's banker President Naina Lal Kidwai said, "This will hopefully help in reversing the anaemic industrial growth observed over the last year."

"In fact high borrowings under the LAF window seen in the recent past clearly reflected the tight liquidity situation.

Release of Rs 18,000 crore (Rs 180 billion) with CRR cut of 25 basis points will help in easing the funds flow situation," she said.

Assocham President R N Dhoot said: "The reduction is a step in the right direction. However, the system has to take this in the true spirit and the benefits have to be passed on to the end users."

Apparel Export Promotion Council's Chairman A Sakthivel said, "The tight liquidity condition which was prevailing since long will surely ease out. It will, in turn, boost our economy and robust the structural deficit in the system by infusing the permanent primary liquidity in the system."

Welcoming the RBI move, leading industry body CII said it will help the sentiment of both consumers and investors alike.

"A weak consumption and investment demand has been derailing the growth momentum of the economy and today's announcement would help improve consumer and investor sentiments," said CII Director General Chandrajit Banerjee.

"The Government has already started to take necessary actions to ensure that the growth process can be revived.

Industry draws heart from the fact that the RBI has also now demonstrated that it is also aligned with the government in getting growth back," he added.

Federation of Indian Export Organsiations Chief M Rafeeque Ahmed said the combined impact of repo rate and CRR cuts might see some upsurge of bank credit to industry which had decelerated.

He also expects a reversal in the average industrial production growth which was 1.075 per cent in the first eight months of the current fiscal, lower than 3.95 per cent clocked in the same period of the previous year.
Image: RBI Governor D Subbarao