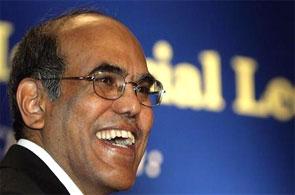 After fighting inflation for more than two years, Reserve Bank of India (RBI) Governor Duvvuri Subbarao finally managed to bring it below the five per cent level - the tolerance level of the central bank - in FY14.
And, if market participants are to be believed, Subbarao will not take his eye off from it till the end of his tenure in September this year.
In September, Subbarao will complete a five-year term as the governor. Although a governor can be re-appointed, Subbarao, in media interactions, had indicated he is not keen to continue beyond September.
Market watchers' views are based on the statement by RBI yesterday in the mid-quarter review that "only a durable receding on inflation that will open up the space for monetary policy to continue to address risks to growth".
"We are not changing our overall call of another 50 basis points rate cut in second half of 2013; but with a slower-than-expected fall in consumer price index (CPI) inflation in May, rising risks on financing the current account deficit and RBI keen to see a "durable" fall in inflation, rate cuts are more likely to be back-ended. This is because it appears difficult for RBI to find space opening up in the next few months," said Sonal Varma and Aman Mohunta of Nomura in a note to clients.
Headline inflation, as measured by the wholesale price index (WPI), moderated to an average of 7.3 per cent in 2012-13 from 8.9 per cent in the previous year. Both in April and May this year, WPI inflation fell below five per cent (4.7 per cent in May and 4.89 per cent in April).
RBI, which had reduced the repo rate or the key policy rate in three consecutive policies in 2013, but decide to maintain status-quo in its mid-quarter review. The decision was based on the sharp depreciation of the rupee against the dollar, which will put pressure on prices. In addition, high retail inflation and widening current account gap was also cited as the reason for the not reducing the rate.
Subbarao will review the policy twice - first-quarter review in end-July and mid-quarter review in mid-September - before he hangs up boots.
"In our view, a July rate cut is now less likely because June WPI and CPI inflation data (to be released mid-July) could inch up marginally. Higher fuel product prices (petrol and coal prices have been raised), a spike in vegetable prices and a weaker rupee should drive the June's headline inflation.

It will be difficult for RBI to justify a rate cut when the inflation trajectory has reversed, even if it is temporary. Also, the balance of payments concerns flagged at Monday's policy meeting are unlikely to fade soon, regardless of an expected improvement in the June trade deficit," Standard Chartered Bank said in a client note.
According to some economists, the chances of an extended pause has increased. "Our current understanding does not point to any abatement of risk from the global markets, implying that the risks to the currency remaining on deprecation bias stays.
Further, after factoring in the risks to inflation and also the global financial markets, we see a bigger probability for RBI to stay on a pause in the July policy meeting. We also believe that the chances of an extended pause have increased," said Indranil Pan, chief economist at Kotak Mahindra Bank.