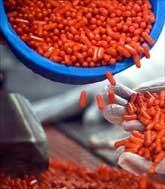 Drug firm Ranbaxy Laboratories on Tuesday said its Romanian arm will market Daiichi Sankyo's drug Evista, used in treatment of osteoporosis, in the European country.
Terapia (Terapia Ranbaxy), a Romania-based subsidiary of the company, would market the osteoporosis medication drug in the country and it is for the first time that Ranbaxy is going to market Daiichi's product in the overseas market.
"This is the first time in Europe that Daiichi Sankyo and Ranbaxy are leveraging synergies generated through the hybird business model," Ranbaxy Laboratories, in which Japan's third largest drug maker Daiichi Sankyo has 64 per cent stake, said in a statement.
In March this year, Ranbaxy introduced anti-hypertensive drug Ovlance from the parent company's portfolio in India.
"Terapia Ranbaxy is a strong player in Europe, and we will provide a unique platform to Daiichi Sankyo for the launch of Evista, and many more new products in the future," Ranbaxy CEO and managing director Atul Sobti said.
Terapia Ranbaxy is the largest generic pharmaceutical company in Romania and is one of the seven largest drug firms in the country.