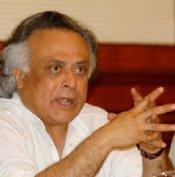 Environment Minister Jairam Ramesh tendered written apologies to Prime Minister Manmohan Singh and UPA chairperson Sonia Gandhi for his recent remarks on the Union Home Ministry's functioning.
Top sources in the Congress told Business Standard that after his apology and the PM's rebuttal, Ramesh will get a temporary reprieve but he has been clearly told not to repeat "these mistakes".
While the prime minister called him to serve a warning, Ramesh couldn't get an audience from UPA chairperson Sonia Gandhi throughout the day.
The Bharatiya Janata Party promptly took up the issue and asked for Ramesh's resignation, dubbing him as a "lobbyist for Chinese interests".
In a telephonic conversation with Ramesh this morning, Singh castigated Ramesh for making such comments. He bluntly told the minister that it was "advisable for Cabinet colleagues not to make comments on the functioning of other ministries, especially with regard to relationship with important neighbours like China", PMO sources said.
A rather peeved Singh is also said to have told Ramesh that there should be "no confusion" over India's policies towards China. Despite several attempts, Jairam Ramesh was not available for comments.
The prime minister's strong words to the environment minister came two days after Ramesh reportedly told correspondents in Beijing that the home ministry was "overly defensive" and "alarmist" in its approach towards entry of Chinese companies in India.
The "overly defensive and alarmist" approach in the security establishments in India which are raising telephone tapping concerns would not help in sustaining the Copenhagen spirit, he is reported to have said on Saturday.

He also said India should be much more relaxed in its approach to Chinese investments into the country and get rid of "needless" restrictions, adding "we are imagining demons where there are none."
The minister made these remarks in the context of recent reports that India had barred import of telecom equipment from the major Chinese firm Huawei, especially in the border areas, following security concerns.
News agencies added that the home ministry was livid over these comments prompting the Prime Minister's Office to step in. Home Secretary G K Pillai later rubbished reports of a bias against China.
By the afternoon, the Bharatiya Janata Party (BJP) too demanded that Jairam Ramesh be sacked. The BJP said his "utterances establish lobbyists also operate from within the government." The opposition party also suggested that the PM keep his ministers in check.
Congress too expressed strong disapproval over the remarks. Congress spokesperson Abhishek Manu Singhvi told reporters that ministers should not air their views publicly on issues related to other ministries. "Even within the country, there can't be any occasion for ministers to publicly talk on such issues. There are enough forum and opportunities, within the government as well as in the party, to address these issues, if any and if necessary."
"We don't approve what Jairam Ramesh said. The Prime Minister and his office has already clarified on this issue and we endorse the PM's statement," Singhvi added.
This is not the first time Ramesh has put the proverbial foot-in-his-mouth. At a convocation ceremony in Bhopal recently, he termed wearing of gowns at convocations as a "barbaric colonial practice" and publicly shrugged off the gown he was wearing.
Last year, Bhopal gas victims burnt his effigy after the minister on his visit to the closed Union Carbide factory picked up a handful of toxic waste in the premises and said: "I held the toxic waste in my hand. I'm still alive and not coughing."