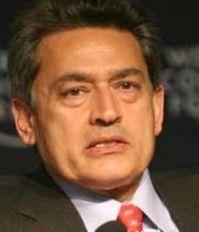 Friends of former McKinsey head Rajat Gupta, convicted on insider trading charges, are urging his acquaintances to submit letters of support to a US judge presiding over his case here to help secure a lenient sentence for the Indian-American.

Gupta, 63, was found guilty by a jury last month of passing confidential boardroom information about Goldman Sachs to hedge fund founder Raj Rajaratnam.

He will be sentenced on October 18 by US Judge Jed Rakoff and faces a prison term of up to 25 years.

A support group for Gupta, known as 'Friends of Rajat', has urged his 'friends and well-wishers' to submit letters of support, in which they should write about Gupta's life and work.

The letters are intended to show to the judge personal opinions Gupta's friends have of his philanthropic work and 'good character'.

The letters are 'intended to provide the judge with a complete and holistic understanding of Rajat's character and contributions to individuals and society before sentencing," the support group said on its website.

It said the letters should not discuss the legal merits of the case or the verdict but their sole purpose is to 'press the judge for leniency in light of Rajat's extraordinary contributions and unblemished character apart from this case'.

Once sentenced, Gupta is expected to appeal the verdict in an appellate court.

"We remain optimistic about the merits of the appeal and its outcome," the group said.

Rajaratnam is currently serving an 11 year prison sentence after being convicted last year on insider trading charges.

If the judge takes into account Gupta's philanthropic work and otherwise stellar career, Gupta could be handed down a lesser sentence.
Image: Rajat Gupta