After Delhi, Uttarakhand and Manipur, Rajasthan has also extended its support for the Centre's decision to allow FDI in the multi-brand retail, stating the move would improve availability of quality goods and enhance competitiveness in Indian entrepreneurs.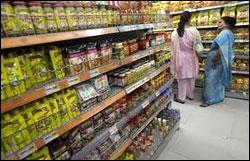 In a letter to Commerce and Industry Minister Anand Sharma, Rajasthan Chief Minister Ashok Gehlot said, "I would like to assure the unstinted cooperation and support of the Rajasthan government for liberalising and opening up of this sector".
He said the decision is bound to unlock the true potential of the agricultural value-chain, besides attracting investments and creating job opportunities.
"It will also improve availability of quality goods for the consumers, encourage local sourcing and enhancing competitiveness in Indian entrepreneurs by giving access to global design and management practices," he said.
He said opening of Foreign Direct Investment (FDI) in multi-brand retail will usher better technologies and enhance efficiencies.
The Cabinet had decided on November 24, 2011 to allow 51% FDI in multi-brand retail, but the same could not be implemented in the face of strong opposition from UPA allies including Trinamool Congress, and several state governments.
Delhi, Uttarakhand and Manipur have already written letters to Sharma, who is making fresh efforts for a political consensus on this issue, supporting the decision.
"On ground implementation of policy will clearly have to be within the parameters of the state laws and regulations," Gehlot said, adding "a strong legal framework in the form of Competition Commission is in any case available to deal with any anti-competitive practices, including predatory pricing".
On August 13, Minister of State for Commerce and Industry Jyotiraditya Scindia in a written reply to the Rajya Sabha had said that ten states and Union Territories have endorsed the Centre's decision to allow FDI in the sector.
"Delhi, Manipur, Daman & Diu and Dadra and Nagar Haveli have conveyed their support to FDI in multi-brand retail.
The chief ministers of Maharashtra, Assam, Haryana, Uttarakhand, Andhra Pradesh and Jammu and Kashmir through their press statements have publicly endorsed the policy and have asked for its implementation," Scindia had said.