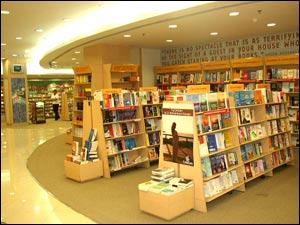 Eleven years after buying Crossword Bookstores, the K Raheja Group -- the promoter of Shoppers Stop -- is reviewing the future of the book retailing chain.

According to three people in the know, it is exploring various options, including alliances and joint ventures, and may even exit the business altogether.

The group is being advised by investment bank Avendus.

Formerly a division, Crossword Bookstores is now a wholly-owned subsidiary of Shoppers Stop, India's leading department store chain. The holding company also acts as the master franchisee.

What started in Mumbai in 1992 as a chain of stores by serial entrepreneurs R Sriram and K Anita -- whose focus was to encourage readers to drop by, browse and buy books – has now grown far bigger.

It is today one of the country's few profitable book and music chains.

It has 72 stores, both company-owned and franchisees, most of these in west and south India.

Crossword, according to sources, clocked Rs 150 crore (Rs 1.5 billion) revenue in 2010-11 and earnings before interest depreciation, tax and amortisation of Rs 5 crore (Rs 50 million) in a landscape where online players such as Amazon and Kindle are as much a threat as other brick-and-mortar chains such as the Tatas' Landmark and the Deccan Chronicle Group's Odyssey.

Shoppers Stop did not respond to Business Standard's queries.

B S Nagesh, vice-chairman and non-executive director, did not want to comment on operational issues as he was no longer manning the company's day-to-day business.

Mails to the company's spokesperson did not get any response.

The company's managing director, Govind Shrikhande, and chief financial officer, C B Navalkar, were travelling overseas and could not be contacted despite several attempts.

Industry watchers and informed sources said most big retailers and peers would be keen to examine any opportunity to buy Crossword.

While the Tatas are the only mutli-brand big retailer with standalone bookstores, companies such as Reliance Retail, Future Group, Aditya Birla Retail and RPG's Spencer could be potential suitors.

Sources said Crossword promoters expected one-two time sales as a fair valuation but added that any
deal might be some time away.
Most retailers remained non-committal.
"We have been hearing about this for two years but nothing has come out of it so far," a top Reliance Retail executive said on condition of anonymity.
Kishore Biyani, chief executive, Future Group, and Thomas Varghese, chief executive, Aditya Birla Retail, said they were unaware of any such strategic development. Sanjiv Goenka, vice-chairman, RPG Enterprises, said Spencer's 'will not be interested.'
Retail analysts look at the development as part of a bigger restructuring in Shoppers Stop -- one of the few listed retailers -- for the last one year.
After facing losses and decline in same-store sales growth in 2008-09, it bounced back in the third quarter of 2009-10 by increasing top line and margins.
To save costs and realign multi-format operations, it pulled out of a catalogue venture with the UK's Home Retail Group as the business did not meet 'planned performance levels.'
It also closed personal products business, Arcelia, and moved out of its coffee shop chain, Brios, leasing out that space to Cafe Coffee Day.
By giving up Brios, the company saved 33 per cent space, while its sales rose 50 per cent. Another brand, Fresh Basket, became a private label of Hypercity, the group hypermarket, while many loss-making Crossword stores were closed down.
Aware of the changing retail and shopping landscape, Crossword added music, magazines, gifts, games and other high-margin products such as toys and CD-Roms.
It also strengthened its online presence.
Even though books are a growing category, despite the online and e-book onslaught, organised retail has only a 7 per cent share of the Rs 3,000-crore (Rs 30-billion) Indian book retail industry.
According to retail consultant Technopak, the contribution of book retail to the overall industry is only 1 per cent and is expected to expand by 15 per cent yearly.
Globally, many bookstores have become unviable due to internet penetration. Recently, US retailer Borders declared bankruptcy.
But in India, most analysts say that physical sales, especially in self-help, children and light reading categories, will continue to expand along with e-books and Kindle.
In associates with Raghavendra Kamath & Arijit Barman