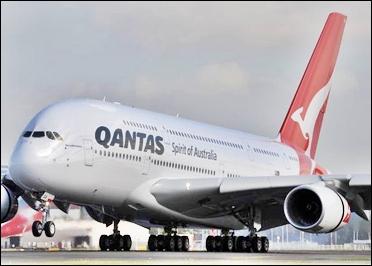 Qantas has decided to keep its fleet of A380 superjumbos grounded for at least next 72 hours as investigations continue into the incident of last week's mid-air engine failure that caused a major scare.

"Qantas will not return its A380 fleet to service until it is confident the issues have been identified and resolved," Alan Joyce, airline's chief executive, was quoted by media reports as saying.

"At this stage Qantas does not expect to operate the A380 fleet for at least another 72 hours" he said. His comments come as reports said that test conducted by Australian engineers had uncovered oil leaks in three Rolls-Royce engines of the grounded superjumbos.

The fleet has been grounded since Thursday when QF32 travelling to Sydney from Singapore was forced to turn back after a midair explosion of one of the aircraft's four Trent 900 Rolls-Royce engines.

Joyce said it was still too early to say what the grounding would cost the airline, which has had to replace flights on routes from Australia to London and Los Angeles and put displaced passengers up in hotels.

He said the focus was still on finding out what caused the explosion on QF32. Teams of engineers are conducting engine tests on the A380s, alongside crews from Airbus and Qantas.

Qantas is putting on additional flights from London, where 30 passengers are stranded, and Los Angeles, where 500 are, to clear the backlog within 24 hours. Joyce said Qantas had spare engines to replace the affected engines on the three aircraft - two of which are in Los Angeles and the third in Sydney.

Asked if Qantas would seek compensation from Rolls-Royce, Joyce said the airline was working with Rolls-Royce and Airbus to solve the current engine issues. Earlier, Joyce said Qantas engineers had found oil "where oil should not be" in engines on the airline's A380 fleet, leading to three engines being removed from aircraft.

Emergency checks following last week's midair engine failure over Indonesia found "anomalies" on three of the fleet's new Rolls-Royce engines, said Joyce, but he added it would be "days not weeks" before the planes would be declared safe to fly again.

"On three of the engines what we have found is slight anomalies. Oil where oil shouldn't be on the engines, and we are just trying to check what the cause of that could be," Joyce said, adding "These are new engines on new aircraft. They shouldn't have these issues at this stage so it's given us an indication of an area for us to focus into."

"It's too early for us to say what components or parts of the engine we think could have been the issue."