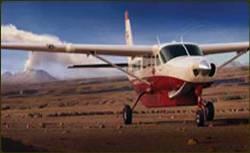 Private air taxi service between Bihar and Jharkhand on Ranchi-Gaya-Patna route commenced on Friday with a three-seater chartered plane taking off on its first flight from Ranchi.
Spirit Air Private Ltd, a Lucknow based private air-taxi service provider, entered into an agreement with DTDS Travel and Tour Planner Pvt Ltd, to begin its service on Airport Authority of India's controlled airports such as Ranchi, Gaya and Patna.
Spirit Air has named its service provider company as 'Indian Air Taxi'.
"We have started our air-taxi service from Friday. . .One person chartered the craft from Ranchi to Patna. For this, we have entered into an agreement with DTDS for one month," G C Biswas, associate vice-president (marketing), told PTI.
Biswas said that it would be DTDS's responsibility to book Spirit Air's three-seater Cessna 172 Sky Hawk aircraft for one month and after which it would re-assess the business performance and decide whether or not to continue with the agreement.
The flight service would operate three days a week -- Monday, Thursday and Saturday --, Biswas said.
The aircraft would leave Ranchi at 9 am and reach Gaya at 10 am. The flight would halt for half an hour in Gaya and then depart for Patna at 10:30 am and reach Patna at 11 am.
The fare for one hour flight between Ranchi and Gaya would be Rs 3,395 per passenger whereas half-an-hour flight for Gaya to Patna would be Rs 2,290, the company's associate vice-president said.
Earlier, air-taxi operator Spirit was scheduled to commence its commercial service from April 10 but it did not materialise due to several reasons.
The operator had also planned to start its non-scheduled commercial chartered air taxi service connecting almost major cities of Bihar from the Bihar state capital and some parts of Jharkhand which did not materialise as it could not provide airfield security, ambulance and fire tender services -- all mandatory requirements to operate service under director general civil aviation rules.
The company had planned to start two aircraft services -- three-seater (Cessna Sky Hawk) and nine-seater (Cessna Caravan) for which the charter rate would be ranging from Rs 18,000 to 20,000/hour for three-seater whereas the rate for nine-seater would be Rs 51,000 to Rs 57,000/hour.
Image: A Spirit Air aircraft. | Photograph: spiritairindia.com