With moderation in economy and core inflation, pressure is mounting on Reserve Bank to cut interest rate by up to 0.50 per cent and address liquidity concerns to boost growth.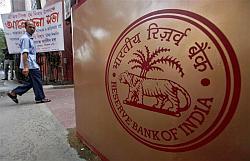 While the Finance Minister P Chidambaram expressed hope that RBI would address liquidity issues at its mid-quarterly review tomorrow, SBI Chairman Pratip Chaudhuri said a 0.50 per cent interest rate cut is needed.

"I think Governor is also aware of the issues about liquidity and tomorrow is the monetary policy. I am sure he will address the issue of liquidity," Chidambaram said after meeting the chiefs of PSU banks in New Delhi.

The Minister said many PSU banks are having SLR in excess of statutory requirement of 23 per cent and earning interest on them rather than lending to corporates.

Chaudhuri said: "We have requested 50 basis points in CRR and 0.50
per cent cut in Repo. We have also requested to increase the export credit refinance which is currently 50 per cent of the rupee credit. We have requested them to increase it to 100 per cent."
Reflecting tight liquidity situation, banks today borrowed Rs 1.42 lakh crore (Rs 1.42 trillion) from RBI under the repo window.
"SBI liquidity is comfortable. We are sitting currently on Rs 30,000-40,000 crore (Rs 300-400 billion) and the government is also disbursing capital. So that improves liquidity," Chaudhuri said.
Core or manufactured inflation came down to 3.8 per cent in February, the lowest in 35 months. However, overall WPI inflation remained high at 6.84 per cent on mainly on account of high food prices.
While the January factory output numbers have showed signs of improvement, growing at 2.64 per cent, the economy is estimated to have grown at a decade's low of 5 per cent in the current fiscal.