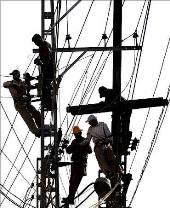 Power companies are asking the ministry of power to allow them to pass on increases in fuel costs to utilities, in the case of imported coal-based power projects.
Companies say the viability of 13,000 megawatts worth of projects, which have fixed power sale tariffs, hinge on the government decision.
This request from the Association of Power Producers to the secretary of power came after a decision by the Indonesian government to benchmark coal prices to the international market.
Australia which contributes a lot to coal imports has announced a carbon tax from next year.
These regulatory changes have wiped off all the calculations that companies have made to earn substantial margins on their projects. 
Any decision will affect the viability of big projects like Adani Power's 4,000 megawatt project in Mundra, currently operating three units -- Tata Power's Mundra UMPP that is set to commission its first unit in the next few and Reliance Powers Krishnapatnam that is yet to start work on its 4,000 megawatt power plant in Andhra Pradesh.
All these three companies have purchased coal assets in Indonesia, expecting coal supply from imports at steady prices.
While Tata and Adani have projects on the ground, rumours are rife that Reliance Power is planning to return the Krishnapatnam project back to the government on a force majeure clause.
If the company decides to go ahead with this, it will incur a fine of Rs 300 crore (Rs 3 billion).
 It has not made any major investment on the project site, and not drawn any of the Rs 13,125-crore (Rs 131.25 billion) loan it had tied up in the same month, last year.
"We are still hoping the government will give them some respite and allow us to pass through fuel costs. We will make a decision based on the decision of government," a top company official said on condition of anonymity.
Explaining how the dynamics would affect the viability of the project, the official said they bought three coal mines in Indonesia and factored a fixed increase in coal costs, which comes to around $26 per tonne.
If it is indexed to international benchmarks as per new regulations, the cost would be around $60, at a massive $34 increase.
As the project requires 15 million tonnes per annum, the loss on account of increased fuel cost would be around $500-$550 million per year.
It is these operational losses which is worrying bankers as well. A lender from a top public sector bank said they put all the loans given to imported coal based projects on review.
"If companies are not allowed to increase the tariff, the project is not viable at all. We are not letting the company draw funds until there is some clarity in the area," said a banker who has lent a huge sum to an ultra mega power project.
"We are a part of the association which has asked to pass on the price increase, as there has been an increase in the coal costs," said Prabal Banerjee, chief financial officer of Adani Power.
In an interview given earlier, Anil Sardana, the managing director of Tata Power said the changes in the mining regulations of Indonesia would not show up in contracts for the next few months.
"These are matters under discussion for enhanced clarity in the coming few months," he said on the issue.
Lenders say the ability to service debt will come under question if coal costs will remain volatile.
As per the payment structure, a power producer will have pay the fuel charges first from the revenues.
Next comes operations and maintenance charges, followed by taxes. Then comes the debt they have to service.
"We will not have any money left to service debt, as fuel costs itself will eat away most of my revenues," lamented the chief executive officer of a power company.
Even as companies seek passing on the hike in costs, it may not be very easy.
If the cost of power sold to utilities go up, it will affect the finances of state electricity boards, which are already under huge debts.
The total losses of SEBs in the current financial year are expected to be around Rs 70,000 crore (Rs 700 billion).