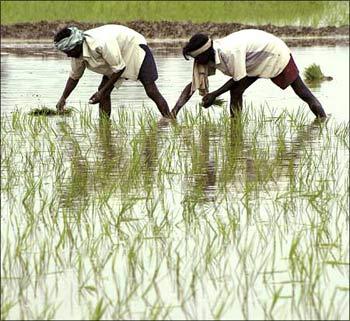 Boundary wall construction and demarcation work for the Posco steel plant near Paradip resumed this afternoon on assurances from officials on compensation, after disruption in the morning by villagers and members of the pro-project United Action Committee restive at non-fulfillment of their six-point charter of demands.

The key demands include providing jobs to a member of each project affected family, changing the method of measurement of betel vines grown on the land and to now be uprooted, and raising compensation for homestead as well as agricultural land.

The administration is yet to act on promises to meet these demands, leading to repeated agitation by pro-Posco villagers, who had earlier cooperated with the administration in acquisition of land for the project in Nuagaon and Gadakujang panchayats.

After Sunday's incident, the villagers held a meeting in Nuagaon where the district administration officials again assured early action.

Following this, the villagers allowed officials of the Industrial Infrastructure Development Corporation, the state-owned land acquisition agency, to resume work.

However, they have threatened to intensify the stir if the issues
are not resolved within the next couple of days.
Gadkujang sarpanch Nakula Sahu complained that Idco officials were engaging outside labour and contractors in construction work, ignoring the local unemployed youth.
District officials led by sub-collector Murlidhar Mallick, who rushed to Polang on Sunday to defuse the stir, have assured the agitating villagers of contact work to locals.
On Saturday, chief secretary Bijay Kumar Patnaik said ground work had started over 1,800 acres acquired in Gadakujang and Nuagaon gram panchayats. The proposed 12-million tonne steel pant needs about 3,700 acres.
Justifying the land acquisition, he said the state government was only reclaiming encroached government land for developmental purposes and there had been no violation of human rights in the matter.
Senior Congress party leader Umesh Swain alleged the Naveen Patnaik government was going ahead with the acquisition, land levelling and other works in the absence of a regular memorandum of understanding and no provision for water and availability of raw material for the plant.
The state government said the MoU would be renewed by June 30 after the steel and mines department finished screening the recommendations from diverse departments on the draft.