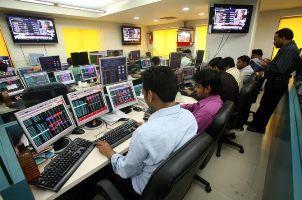 The general elections could prove to be a 'big swing factor' for the Indian stock market going ahead, financial services major HSBC said while putting a Sensex target of 21,750 for end-2014.

The Indian market has seen a modest gain of 8 per cent in the current year, but underperformed significantly in US dollar terms as the Indian rupee depreciated sharply in the second half of the year, the company said.

According to HSBC, the 'storm has abated' for the Indian markets as the US Fed has deferred tapering of its quantitative easing stimulus, and as the new Reserve Bank of India Governor Raghuram Rajan has taken steps to contain the rupee fall.

However, "structural imbalances and the election uncertainty should keep the outlook for 2014 clouded", HSBC said.

"We expect Indian equities to deliver a below average return of 3 per cent in 2014, while earnings should grow by 8-10 per cent," the HSBC report said.

"We are underweight India within the region context with a Sensex target of 21,750 for end-2014," it added.

According to the global brokerage major, the upcoming general elections could be a 'big swing factor' and an 'inflection point'
for the Indian markets.
"In our view, if BJP-led National Democratic Alliance comes to the power, it would be positive for infrastructure-led sectors, while a Congress-led United Progressive Alliance government would be positive for consumption-led sectors," it said.
The report further said: "Indian infrastructure spending is likely to rebound whoever wins next year's general election. We see capital goods companies growing profits by 15 per cent in calender year 2014".
"We prefer to play the market via export-oriented sectors, such as IT and healthcare, which benefit from a weak rupee, or USD proxy plays, such as energy. We are cautious on consumer discretionary, real estate and state-owned banks," it added.
Moreover, earnings estimates for IT and healthcare companies are likely to be upgraded on the back of sharp currency depreciation.
Historically, the Indian market has rallied sharply post any favourable election outcome -- a stable government with a single party holding a commanding position in parliament, the report said.