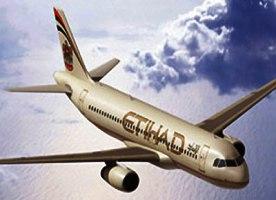 The Prime Minister's Office had raised concerns over the bilateral air services agreement (ASA) signed between India and Abu Dhabi earlier this year, raising the number of flights from 13,700 to 50,000 each week.
The PMO had raised concerns over several issues, including reduction of direct long-haul traffic from India, lesser consolidation of any airport in India and a "negative impact on any hub creation in India," according to a note released by PMO in response to an RTI application filed by one Harish Kumar of Delhi.
It had also pointed towards the loss of business to Middle Eastern hubs and lesser stimulation of domestic traffic, among other things, the note said.
The concerns were, however, sought to be put at rest by Ministries like Civil Aviation and Commerce. The ASA, which was signed on April 24, was given a post-facto approval by the Cabinet on September 3.
While Civil Aviation Ministry was then learnt to have focussed on the positive aspects of direct foreign air traffic to be generated from Tier-II cities, the Commerce Ministry had
observed that enhancement of bilateral ASA would create favourable conditions towards attracting funding from Abu Dhabi and generate confidence of foreign investors in the Indian economy.
As per the fresh ASA, the increase in the number of flights from 13,700 to 50,000 per week would be implemented in phases over a period of three years. While an additional 11,000 seats per week would be added to the existing 13,700 this year, another 12,800 seats per week would be added in 2014 and 12,870 more in 2015.

A number of MPs from various parties had objected to the enhancement granted in the air traffic rights, which had followed the signing of Rs 2,058 crore (Rs 20.58 billion) Jet-Etihad deal under which the Abu Dhabi-based carrier would pick up 24 per cent equity stake in Jet.
Following objections by the MPs, the PMO had come out with a statement refuting media reports about disagreements within the government on the matter.
"This is not an agreement between governments and there is no question of either backtracking from or disowning this proposal as this is not an agreement with the government," it had asserted in a statement in July and said that the Jet-Etihad deal was a matter between two private parties and not two governments.
The PMO had made it clear that after the Civil Aviation Ministry sought clearance for the ASA, the office had directed consultations on the matter among several ministries including Finance.
Following this, the Civil Aviation Ministry team was given a go-ahead to sign a MoU to amend the ASA. The PMO had also directed that the issue be brought to the Cabinet for approval.