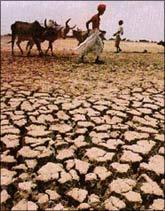 In view of the severe drought and growing prices of essential commodities, Prime Minister Manmohan Singh has constituted a crisis management group of Ministers (GoM) for monitoring the situation on a day-to-day basis.
The decision was taken after a high level meeting chaired by Singh. Chairman of the 13th Finance Commission Vijay Kelkar, and Planning Commission Secretary Sudha Pillai also attended the meeting.
Union Finance Minister Pranab Mukherjee would head the crisis management group.
The GoM comprises Union Agriculture Minister Sharad Pawar, Railway Minister Mamata Banerjee, Petroleum Minister Murli Deora and Power Minister Sushil Kumar Shinde sources added.
The main task of the GoM will be to minimise the damaging impact of drought on food prices and to improve the condition of farmers affected by the adverse monsoon situation.
The GoM will also try to devise ways to contain the damages done by the failure of the Kharif season.
As many as 161 districts across the country have been declared drought-hit.
Earlier, expressing concerns over the situation, Mukherjee said the drought would affect the country's economic growth, which is expected to be below 6% this year.