The City and Industrial Development Corporation (Cidco), the nodal agency for the Navi Mumbai International Airport project, on Saturday sought Prime Minister Manmohan Singh's intervention for an early approval of the request for qualification (RFQ) for the project. Cidco also sought financial assistance from the Centre for pre-development costs.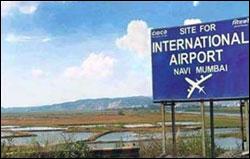 Chairman Pramod Hindurao, during his meeting with Singh at the state governor's residence here, brought to the latter's notice that the RFQ was submitted in April, but the approval of the ministry of civil aviation was still awaited.
The total project cost has been pegged at Rs 14,500 crore (Rs 145 billion), of which Rs 9,000 crore (Rs 90 billion) would be for phase I. In his presentation, Hindurao said, "Of the Rs 9,000 crore (Rs 90 billion), pre-development cost is about Rs 4,000 crore (Rs 40 billion)."
He added, "It is required for preparation of airport site, including land acquisition, relief and rehabilitation and land development. To make this greenfield project viable, to be developed under public-private partnership, assistance from the Central government is necessary." Cidco also sought exemption in "no objection certificate application system from the Airports Authority of India.
Cidco had to defer issuance of RFQ for a couple of times since last year for want of clearance from the ministry of civil aviation. Also, the Project Affected Villagers (PAV) of Navi Mumbai International Airport have agreed to a joint measurement with the Maharashtra revenue department officials for 274 hectare of land to be acquired for the project. However, PAVs and the state government have yet to arrive at an agreement over the quantity of developed land to be given to the PAVs who have already dropped their demand for compensation of Rs 20 crore (Rs 200 million) per acre.
PAVs are 40 per cent of developed land, while the state government is offering 22.5 per cent developed land.
Of the 2,020 hectare required for the airport project, 1,400 hectare was in Cidco's possession. Another 450 hectare private land is yet to be acquired, of which 274 hectare is exclusively for aeronautical purpose while the rest is for the non-aeronautical usage. Negotiations are currently underway with the villagers.