Pradeep Jain, chairman of Delhi-based Parsvnath Developers, must be a worried man. Share prices of his firm have halved in the past five sessions, wiping off Rs 750 crore (Rs 7.5 billion) of its market capitalisation.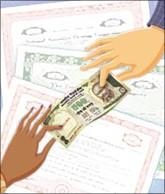 The market was abuzz since last Friday that there had been margin calls from lenders with whom Parsvnath promoters had pledged their shares.

As of September 30, Jain and his family, who own 70.16 per cent stake in Parsvnath Developers, had pledged 71.24 per cent of their stake in the real estate developer.

The chatter was not entirely misplaced. On Tuesday, Parsvnath's promoters pledged an additional two per cent stake in favour of IDBI Trusteeship to meet the margin shortfall, according to disclosures made to stock exchanges.

After the additional pledge, shares representing 14.21 per cent stake in Parsvnath are now pledged with IDBI Trusteeship as security for the term loan to the developer.

"We have pledged additional shares with IDBI Trusteeship Services because of a sharp fall in stock prices in the past couple of days towards the additional margin," said Jain, who founded the firm in 1990.

Parsvnath shares hit the 10 per cent lower circuit on Thursday to close at Rs 36 on the BSE.

The real estate developer is not the only one that had to pledge additional shares with lenders. Two promoter entities of the Sajjan Jindal-led JSW Steel - Jindal South West Holdings and Vrindavan Services - have also pledged additional shares with their lender, IDBI Trusteeship earlier this week, a disclosure to the stock exchanges showed.

The JSW Steel stock, which closed at Rs 568.20 on the BSE on Thursday, has lost 20 per cent in the last 13 sessions.

An email query sent to a JSW Steel spokesperson on the reasons behind additional shares being pledged by promoter entities remained unanswered.

Promoter or promoter group entities of companies like Punj Lloyd, Emami and Jyoti Structures also disclosed additional pledges with lenders on Thursday.

With the stock market firmly in a bear grip, lenders have started asking promoters of several
firms to pledge additional shares or make some payment.
"It has always been risky to invest in companies where more than 30 per cent of promoters' shares are pledged," said Saurabh Mukherjea, who heads the institutional equities business at Mumbai-based Ambit Capital.
"Usually, whenever a promoter's personal finances are stretched, it spells bad news for the underlying company."
In July this year, ICICI Bank had acquired 29.3 per cent stake in telecom network services firm GTL after invoking 28.5 million shares pledged by the promoters.
In 2009, Vijay Sheth lost control over Great Offshore after he defaulted in paying interest to Bharti Shipyard, which invoked 14.89 per cent of Sheth's stake pledged with it.
Shares of companies like Suzlon, Pipavav Defence & Offshore Engineering, ARSS Infrastructure Projects, Gati and Bilcare have fallen 28-53 per cent since November 11, according to data compiled by BS Research Bureau. More than 70 per cent of promoters' holding has been pledged with lenders in case of these companies.
Promoters of 31 per cent of 1,214 listed companies, with market cap of Rs 100 crore (Rs 1 billion) or more, have pledged a portion of their shareholding, according to a study by Crisil Research.
The total pledge works out to Rs 1,10,000 crore (Rs 1,100 billion) worth of market cap as on November 18.
"In the backdrop of inadequate disclosure levels on share pledging, investment in such companies exposes an investor to severe price volatility in case a promoter is not able to meet payments or provide additional collaterals in a falling market," analysts at Crisil Equities said in a research report.
The selling of pledged shares comes as a shock to retail investors due to the opaque nature of these transactions. Present guidelines by the Securities and Exchange Board of India require companies to disclose the percentage of promoter holdings pledged, but several crucial pieces of information are not made public.
In case of disclosures related to promoter share pledging, Crisil analysts are of the view information like the purpose of fund-raising, amount of funds raised through the shares pledged, the entity with whom the shares are pledged, the stock prices and the conditions when margin calls will be triggered should be made available on a quarterly basis for greater transparency.