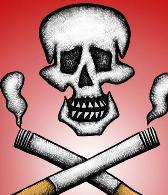 India's tobacco majors ITC and Godfrey Phillips India (GPI) have stopped production of cigarettes in view of uncertainty over the sort of pictorial warnings that needed to be carried on tobacco products starting this month.
The companies have said there was no clarity on types of warnings to be carried on the packages. ITC that makes brands such as India Kings, Gold Flake and Navy Cut has stopped production at all five units located across India since Thursday.
Confirming the development an ITC spokesperson said, "Units (for making cigarettes) are shut because of the ambiguity in pictorial warnings to be carried from December 1 onwards."
Similarly, production has been stalled since Dec 1 onwards at GPI's two units in India. It makes brands like Four Square, Red and White and Cavanders.
"Yes, we have stopped production at our two units," GPI Vice-President Marketing Neeta Kapur said. The Ministry of Health and Family Welfare had notified in May this year that all tobacco product packages in the country must carry pictorial health warnings like depicting a cancer-stricken mouth, from December 1, 2010.
"Companies
making cigarettes and bidis have been forced to close down production due to the uncertainty regarding the warning," Tobacco Institute of India director Udayan Lall said.
He said the companies had written a letter to the ministry seeking clarity on the the kind of pictorial warnings to be carried on packs, but no clarity has emerged from the government on the same.
"We have not received any response so far," Lall added. According to Lall, tobacco companies were under an impression that the December 1 timeline for putting pictures of 'Mouth Cancer' on product packs would get pushed back.
"There were media reports that the government is set to further delay the notified 'Mouth Cancer' picture scheduled to appear on all tobacco products from December 1, 2010," he added.