Italian automaker Piaggio on Thursday said it will invest 30 million euro in India to set up a scooter facility in Baramati, Maharashtra, to re-introduce the iconic Vespa scooter by early 2012.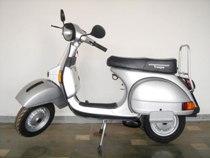 "We will invest 30 million euro to set up a new facility Baramati. The scooter plant will reach a capacity to produce 1,50,000 units per annum in the next three year," Piaggio Vehicles Chairman and Managing Director Ravi Chopra said.
The company plans to re-introduce the erstwhile 'Vespa' scooter with a gearless 125 cc engine and manufacture it at the proposed new plant.
"We will launch the scooter by the end of 2011 or early 2012," Chopra said.
Vespa was earlier sold as LML Vespa in partnership with Kanpur-based Lohia Machinery Limited (LML).
Talking about the commercial business, Chopra said the company will launch a 0.5 tonne small truck in the next two- three weeks' time. The company currently sells light commercial vehicles in the country , including the Ape.