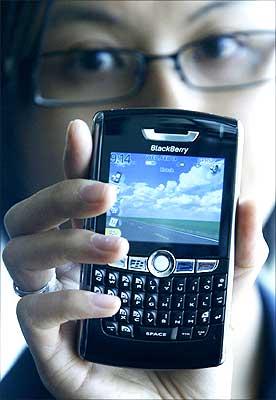 A design experiment that began with Pearl continues with Blackberry 8800. Although a beefier model of Pearl, the 8800, packs in a full-sized keyboard and a 2.4-inch display that will not disappoint.
RIM, the makers of Blackberry, has adorned the 8800 with a global positioning system that will double as a navigator using the included TeleNav software. India, though, lacks maps and location-based services for the GPS navigator system.
Features
The trackball continues, just like in Pearl, which does not tax the thumb. The letters on the keyboard are rather proximate, with each key having its own slope. Result, typing becomes a nerve-wracking for beginners, but couple of e-mails and your fingers will have no trouble finding the keys.
The Blackberry 8800 is a tad thinner than the Pearl (0.55 inches as against 0.57 inches of Pearl) and it's certainly less bulky than the Treo or any other PDA.
As expected, the 8800 did a superb job of pushing new e-mail to the inbox automatically. Setting it up is a breeze, just enter your mailbox details via the website and new mail will be automatically pushed to your device when it arrives.
Blackberry's Internet client allows users to set up to 10 personal and corporate e-mail accounts. Attachment support lets you view Word, Excel, PDF, and JPEG files. Sadly, there is still no editing available for Office documents on the 8800, just like the last generation of Blackberry(s).
The browser loads text before images, sites like Business Standard and Gmail load within ten seconds and articles the pages take another 10 seconds to pop up the text. Ample screen real estate made reading e-mails and even opening and closing applications easier than on the Pearl.
Minor flaws Blackberry 8800 has a media manager utility that will import your music, photos, and videos but since the device does not support DRM, so download and subscription services are not accessible.
The 8800 does not include a camera and most notably there is no Wi-Fi and no HSDPA too. Surprisingly, the 8800 is a good phone with all the usual features like speaker-independent voice dialling and three-way calling (albeit the 'noise cancellation' feature didn't have mucho effect).
The RIM Blackberry interface needs a desperate makeover. Its user interface needs to combat with Windows mobile phones. The Blackberry 8800 does have extraordinary powers, with 5.5 hours of talk-time, the lack of HSDPA or Wi-Fi support probably helps here.
In sum
You round it off, if you were sold on the idea of a good looking Blackberry Pearl but wished for a full QWERTY keyboard, then the Blackberry 8800 is the device for you at, Rs 31,999 and is available on Hutch and Airtel networks.
Photograph: Indranil Mukherjee/AFP/Getty Images
Powered by