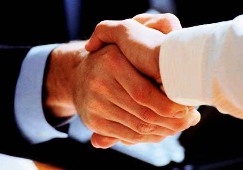 Private equity firms have invested over $5 billion in Indian companies so far this year, more than what entire 2009 saw.
The PE companies, however, have also sold off shares worth about $2.5 billion yet.
As many as 220 companies saw PE investment pouring in during the first seven months of 2010, or between January to July, while PE firms made an exit from 73 other companies.
According to data compiled by deal space research firm VCCEdge, the first seven months of 2010 have seen private equity deals valued at $5.1 billion, as compared to $4.3 billion in entire 2009.
PE firms generally exit from their investment through buyback of shares by promoters, open market transactions, merger and acquisitions and public offers.
During the month of July 2010 alone, the PE investment in India rose by nearly 190 per cent on year-on-year basis to $776 million.
The number of deals also rose from 16 in July 2009 to 25 last month.
The average deal value doubled to $26 million last month, from $13 million in July 2009.
Financials, consumer discretionary and utilities, were the most targetted sectors during the month, VCCEdge said in its monthly report on PE deals.
The largest deal for the month was $179 million investment in IDFC by Actis and investment arm of Malaysian sovereign wealth fund Khazanah.
This was followed by $110 million investment by Xander Real Estate Partners in Panchshil Realty, which is developing seven hotels in India under the American brand of Marriott.
A $64 million investment in Rei Agro by Blackstone and other PE firms and $59 million investment in Monnet Power by Blackstone also figured among the top five.
At the same time, there were 11 exits worth $169 million in July 2010.
These included WDC Ventures' $39.6 million exit from Wadhwa Group SPV, Citi Venture's $29.4 million sale from JBF Industries and Istithmar's $25.3 million sellout of SpiceJet shares.
In total, there have been 77 exits by PE firms so far.
While there were 32 exits worth $824 million in the first quarter of 2010, another 30 exits worth $1.46 billion were seen in the second quarter.
However, there were only 38 exits in the first two quarters of 2009.