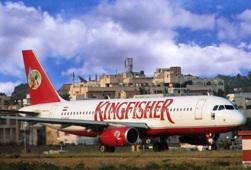 Lenders' decision to recall the unpaid loans of Kingfisher spells more trouble for its 3,000-odd employees, unpaid for eight months.

The carrier has been grounded since October and employees haven't got pay since June.

On Saturday, a group of engineers and pilots met airline chairman Vijay Mallya, seeking details of a revival plan and clearance of dues.

An executive said Mallya assured them a month's salary would be released this week and proposed to pay six months' salary once the operating permit was restored.

He also told them it had secured a no-objection for flying again from most agencies except the Airports Authority of India and Mumbai International Airport.

The meeting took place after a group of engineers from Delhi threatened to file a winding-up petition against the airline.

The employees are losing hope.

"Each time we approach Mallya or the chief executive, they say we are close to finding a solution. On the ground, no action is visible.

I havn't been paid since May and eight months' salary is due," said an engineer who did not wish to be identified as he was still on the rolls.

"Allowing foreign direct investment in aviation was billed as a panacea but there is no change.

"We lost faith a long time back and are with the airline out of desperation. There are not enough jobs in the market."

The carrier's return to the skies does not seem near.

Airbus A320 planes and ATR planes have been kept in "preservation mode", with all lubricants and oil drained out and open parts covered, thus limiting the maintenance.

Airport entry passes of many employees have expired and Mumbai airport has taken over the terminal premises it had allotted to the airline.
No role in debt crisis: Govt
"The aviation ministry has no role to play in what is happening between Kingfisher and banks.

"Unless Kingfisher files an operationally and financially viable plan, it will not be allowed to fly," Civil Aviation Minister Ajit Singh said.