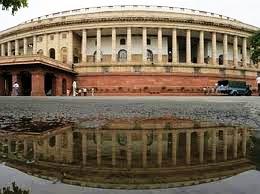 The Parliamentary Standing Committee on Finance on Friday finalised its report on Goods and Services Tax which will be tabled in Parliament in the monsoon session beginning August 5.

"The Committee has adopted and finalised the report on GST. It will be sent to the Parliament today only. It will be tabled in Lok Sabha in the Monsoon session," a source said.

The GST Bill, introduced in Parliament in 2010, is being vetted by the Standing Committee on Finance. Now, the states and the Centre would together finalise the draft and bring it back to Parliament.

The proposed GST is aimed at bringing in a common tax regime for goods and services by subsuming most indirect taxes.

It is also expected that GST will help increase revenue collections.

The GST roll-out has missed several deadlines due to differences between the states and the Centre over contentious issue of central sales tax, compensation to states and design of GST structure.

Finance Minister P Chidambaram had recently said that "the Empowered Committee of State Finance Ministers is working hard on the GST
and by and large all of them are very supportive.
"The Constitution Amendment Bill is being drafted. It is being placed before the Council of Ministers (on July 22).
Then the GST Bill is to be drafted. It will be placed before them. The two would be placed in Parliament after they are ready."
The minister had said that 'one or two state governments' were opposing GST.
According to sources, the panel has suggested that the government look into the issue of revenue loss due to implementation of GST regime in case of higher resource mobilising states.
He further said the panel has suggested that the Centre should prepare a framework for the GST regime in which the revenue generating states should be adequately compensated.
The gas pricing issue also came up before the panel but it deferred the matter for the next meeting scheduled on July 26.
According to sources, Deepender Hooda and Sanjay Nirupam said the issue of gas prices should be taken up for discussion by the Committee on Petroleum and Natural Gas and not by the Finance panel.
However, majority of members rejected their view saying all issues which have revenue implication should be taken up by panel for deliberations.