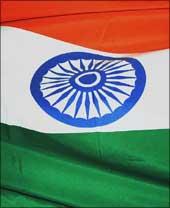 The Planning Commission has scaled down the growth rate for the Eleventh Plan ending 2012 to 8.1 per cent from 9 per cent in the wake of the global financial crisis that slowed the pace of economic expansion.
"The average rate of growth in the Plan period could be little over 8 per cent (8.1 per cent). This would be below the original plan target of an average of 9 per cent growth. . . , but it would be better than the 7.8 per cent achieved in the Tenth Plan period," the Commission said in its Mid-Term Appraisal of the Eleventh Plan to be placed before Prime Minister Manmohan Singh on Tuesday evening.
The Commission expects the economy to expand by 8.5 per cent in 2010-11 and rise to 9 per cent in the terminal year of the Plan.
After getting the full Planning Commission's clearance, the MTA document will be placed before the Cabinet and thereafter before the National Development Council for final approval.
Headed by the prime minister, the full Planning Commission comprises key Cabinet ministers, including Finance Minister Pranab Mukherjee and Agriculture and Food Minister Sharad Pawar, Deputy Chairman Montek Singh Ahluwalia and all the full-time members of the Plan panel.
The commission had set an average annual growth target of 9 per cent for the Eleventh Plan -- beginning with 8.5 per cent in the first year and closing with 10 per cent in the last year of the Plan period.
The MTA document said the economy exceeded expectations in the first year of the Eleventh Plan (2007-08) with a growth rate of 9 per cent but the momentum was interrupted in 2008-09 because of the global financial crisis.
Following the global meltdown, the growth rate slipped to 6.7 per cent in 2008-09 from over nine per cent in the preceding three years.
In the current fiscal, the growth rate is pegged at 7.2 per cent despite poor contribution from the farm sector, which is projected to shrink by 0.2 per cent, the MTA said.
Buoyed by the recovery since the last meeting of the full Planning Commission in September 1, 2009, the document said, "The economy would be well positioned for transition to a growth rate higher than 9 per cent in the Twelfth Plan period."
In order to achieve high growth rate, the Commission suggested the government should focus on fiscal consolidation and maintain investor-supportive economic environment.
Finance Minister Mukherjee, too, in the Budget speech last month had said, "The first challenge before us is to quickly revert to the high GDP growth path of 9 per cent and then find the means to cross the double-digit growth barrier."